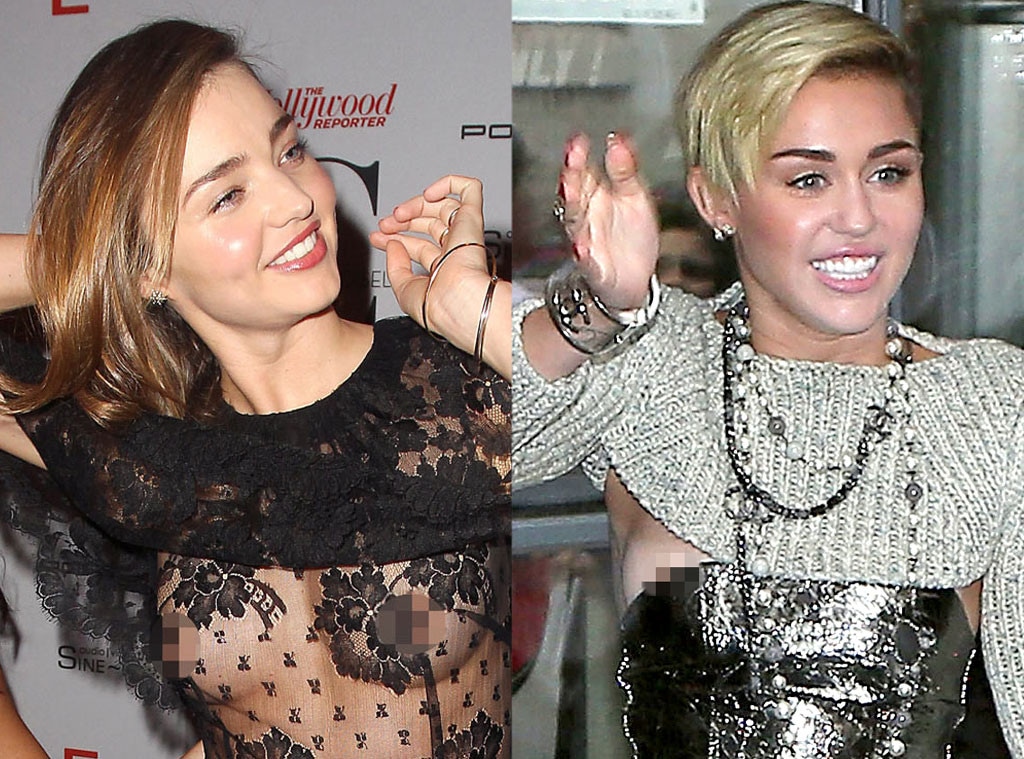 Abaca USA/AKM-GSI; Marc Piasecki/Getty Images
Sometimes skimpy or loose-fitting clothing can fail to cover up celebs as they strut their stuff on a red carpet, exit a vehicle or just simply move around doing everyday activities. That's when a flash of skin or undergarments can make a sudden appearance. And sometimes a photographer catches that fabulous moment.
So it happens. And this year, it happened a lot, especially in the bosom area. Miley Cyrus let out one of the girls while making her way in Paris. The 21-year-old pop star also had a slight slip while sporting a revealing white corset during her iHeartRadio concert.
Nicki Minaj has exposed herself on numerous occasions. Here's one example. Here's another. And another.
Miranda Kerr intentionally posed topless, and also fell victim to exposing a little too much in a sheer top.
We also witnessed Jennifer Lawrence's dress exposed a bit of her legs as she made her way to except the SAG award for Best Female Actor in a Film. But it wasn't a rip!
And then of course, there's the flash of an undergarment.
Stacy Keibler neglected to zip up the side of a jumper, thus exposing a bit of pink underwear. Two ladies showed more skin than they bargained for 2013 Cannes Film Festival: Rosario Dawson and Eva Longoria.
But that's only the beginning.
Let's take a look back all sorts of wardrobe malfunctions and pixilated pics!