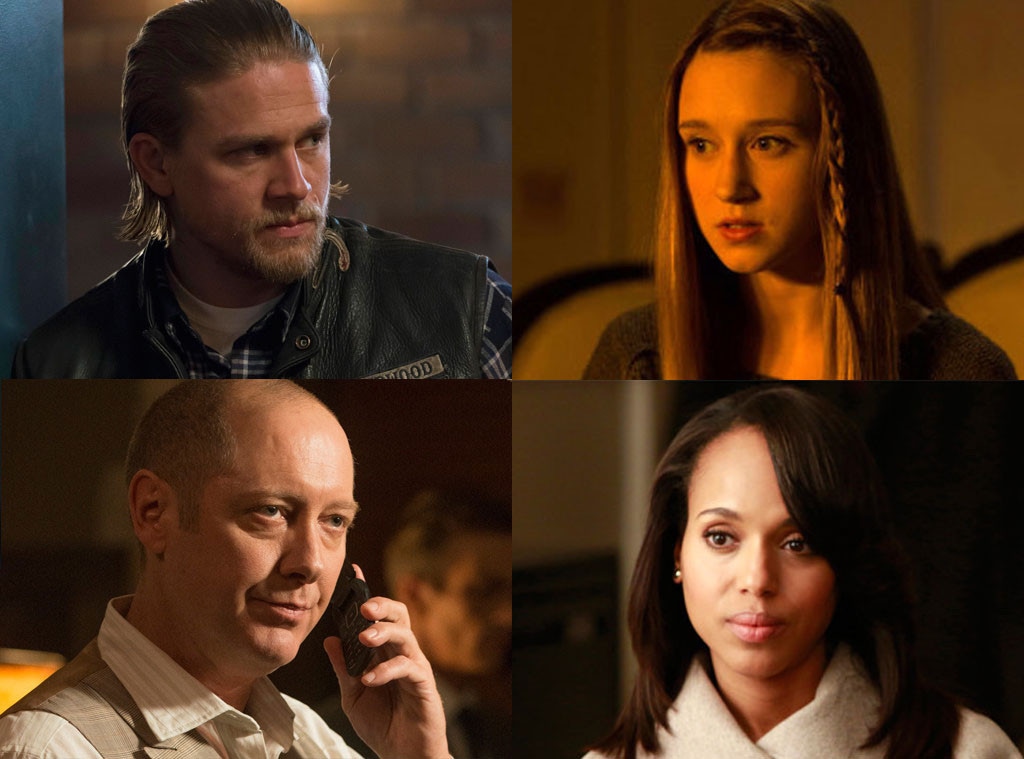 It's ba-a-ack!
After a mini break, Spoiler Chat is back and better than ever. (Though it may be a few pounds heavier after overindulging this Thanksgiving!) And today's column in jam-packed with juicy scoop on your favorite shows, including a sexy newcomer who will be romancing one of our ladies on Scandal, what craziness is going down tonight on American Horror Story: Coven and what Nero's next move is on Sons of Anarchy!
Plus, we've got scoop on The Blacklist, Hart of Dixie and more...
Becca M.: I need Scandal scoop! Gimme anything you've got.
One lucky lady is getting a new love interest, y'all! We're not going to tell you who will be romanced (that would ruin the Scandalous surprise!) but we will tell you that Andrew is handsome, charismatic and extremely intelligent. Keep an eye out for him in episode 11, and shout out your new shipper guesses in the comments below!
Isaac: Can't believe Juice came clean last night! What's next for Nero and Jax on Sons of Anarchy?!
That embrace at the end of last night's episode was a complicated one, no? "He's definitely torn right there," Jimmy Smits says of Nero's mind-set in that moment. "This whole aspect that Kurt [Sutter] deals with in terms of what betrayal is when you've formed a familial relationship, the whole thing about betrayal and family and what that means, is a deep cord…You know, shit that you do comes back to bite you. Everybody's left off-kilter and everyone's going to exact their own revenge. We'll see what happens." Gulp!
Ty: I ask every week and have yet to hear from you guys: Coven spoilerssss!
The only reason we paid attention to your query this week was because of all the extra s's on "spoilers." Tonight, we recommend not eating until after the opening credits. But if you are eating during American Horror Story, rethink your dinner schedule. Zoe and Madison will try and bring Queenie back to the coven, but all she has for them are warnings about war. Meanwhile, remember the crazy religious lady next door? Tonight's episode will show you just how nuts she is when she forces her son to cleanse himself "inside and out." Literally. 
Cady: I seriously need Felicity and Oliver to get together, like yesterday, on Arrow. Is there any hope?
Expect the introduction on Barry Allen, who makes his debut tonight, to have a major impact on Felicity and Oliver's relationship for the remainder of the season. "That relationship is really moving in a new direction," Stephen Amell says of the duo. "It's one of those things where, guys do this all the time, you don't realize the depths and levels of your feelings for someone until someone else likes them."
Thomas: Cannot believe I have to wait six weeks for The Blacklist to return! Scoop me please to dull the pain!
Prepare to learn a whole lot more about Lucy Brooks, the woman Red looked into (and had a photo of) several episodes ago. And you can expect it to intersect with Tom's storyline. Ugh, can we just fast-forward the next six weeks, please and thank you!
Farrah: I'll take anything I can get on Teen Wolf's Derek!
Hmmm...how about that he will finally take on a real big brother role in season 3B for Scott, with Tyler Posey telling us it's his "favorite relationship" right now on the show. All together now: Awww! As for when Derek will be back in Beacon Hills, let's just say you'll find out where he is in the season premiere..and who he's with is pretty surprising.
Debra: I love The Goldbergs! Definitely my new favorite show of the season. Got any scoop?
We love it too! But we don't love that Erica is about to get mixed up with the wrong type of people. Prepare to meet Lainey, Erica's BFF who is a wild child with plenty of "experience." (OK, fine, she's a bit of a skank.) In episode 14, we'll see Erica trying to embrace her bad side by crashing a frat party that she was definitely not invited to. But hey, at least she'll meet a hot meathead in the process.
Claire: How about something on Hart of Dixie?
Prepare for one of the most epic mug shots in TV history. One of our Bluebell residents will be facing some time in the slammer, and it will cause all kinds of chaos. Seriously, everyone on the Rammer Jammer will be talking about this crime. Curious? Well, let's just say that it involves boys, cars, and stolen property…