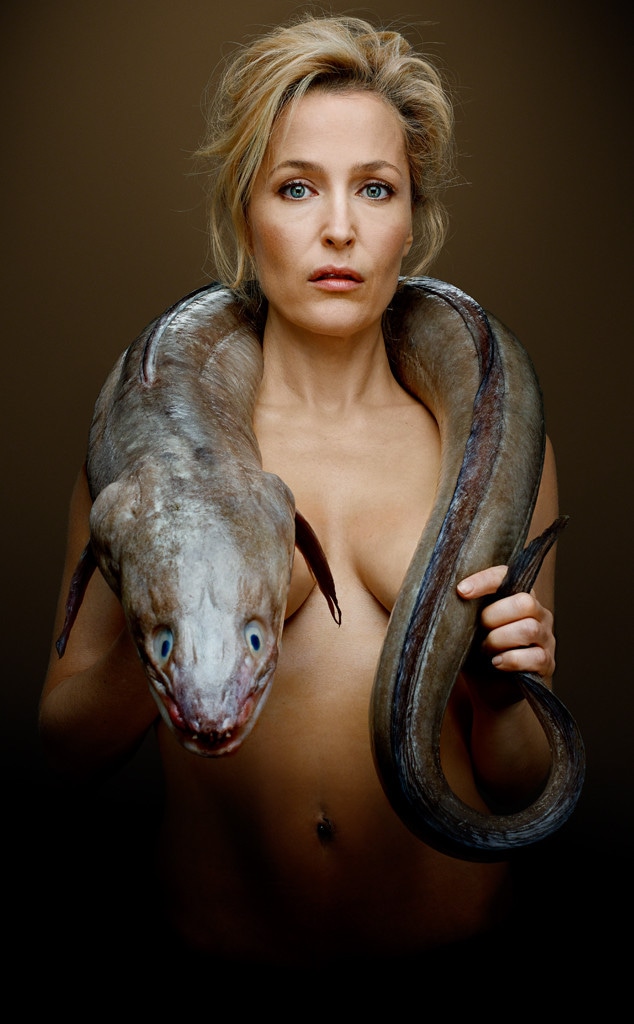 Fishlove/Rouvre
This is a side of Scully we've never seen before.
X-Files star Gillian Anderson, 46, has decided to get completely naked and pose with a newfound friend in the form of a large conger eel to support Fishlove—a campaign designed to highlight the issue of collapsing fish stocks, with the message being that British taxpayers' money is being given to French fishing trawlers to destroy the deep seabed in British waters.
A petition, for which this image of Anderson—and others like it— was created for, has been launched in support of Fishlove.
"Amazing animals that live in the deep ocean are being systematically destroyed by massive fishing nets that catch or crush everything in their path," reads the petition. "But in days, the European Parliament could vote to protect one of the world's most precious deep-sea habitats—and we need to give them the public mandate to do it.
"On December 10th, Members of the European Parliament can vote to ban the most destructive forms of deep-sea fishing in the Northeast Atlantic...Let's make sure they have what they need before this historical vote! If we come together right now to raise our voices—we can ensure one of the most wonderful ocean habitats in the world is protected. Sign the petition right now and share this with everyone."
Other celebs who stripped down to their birthday suits and strategically covered themselves up with sea creatures for the cause include actress Olivia Williams and rapper Goldie.