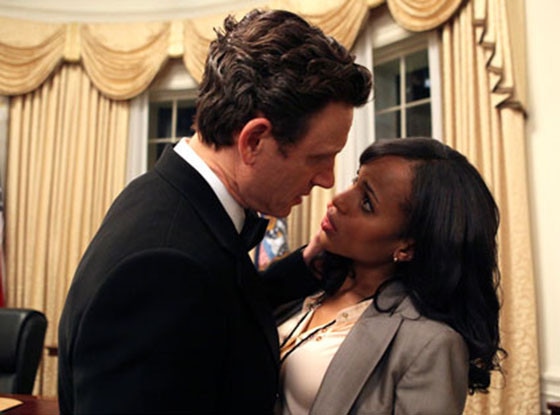 ABC/DANNY FELD
Not since Felicity's Team Ben or Team Noel situation has a TV love triangle been so closely followed, meticulously analyzed and hotly debated. Scandal's dynamic trio of Olivia (Kerry Washington), Fitz (Tony Goldwyn) and Jake (Scott Foley, a repeat love triangle offender), has captured the attention of shippers everywhere, and while fans and critics have their own opinions on the matter, it's time that Kerry herself tells the world which side she's on.
While shooting her first commercial for Neutrogena (which includes a gig as a creative consultant), the glowing mom-to-be talked about how everyone always asks if she's Team Jake or Team Fitz. Ready for your official answer?
"I'm team Shonda Rhimes!" she says. "Whatever she writes is what I'm rooting for. And I guess I'm for Team Happy Olivia. I just want Olivia to be with the person who is right for her, and I guess we'll have to see how that unfolds."
Hm, how very diplomatic of you Liv, er, Kerry. But obviously Scandal is so much more than just a love triangle guessing game. There are much bigger fish to fry in the world of Olivia Pope.
"Operation Remington is a big part of what the show is about right now in a similar role that Defiance played last season," Washington teases. "So it is the big scandal and there's lots more to learn about it, if you stay tuned. And it gets crazier and crazier in the most wonderful way."
Does Scandal do storylines any other way? Nope. To hear more about Kerry's work with Neutrogena and to preview her gorgeous commercial shoot, check out our exclusive preview!
Scandal airs Thursday nights on ABC.