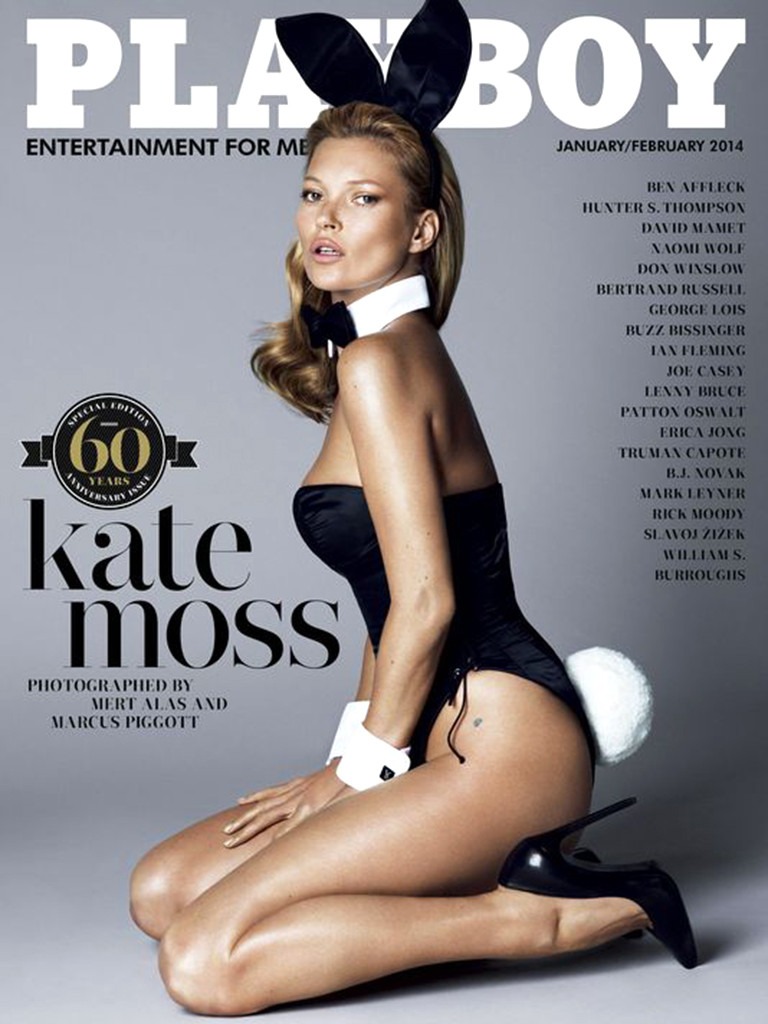 Mert Alas and Marcus Piggott for Playboy
Who better than Kate Moss to usher in Playboy's next era?
The eagerly awaited cover of Playboy's 60th anniversary edition hit the web on Monday featuring the British-born supermodel on the cover sporting the magazine's signature bunny ears, classic bunny suit and white tail.
And by the looks of the whopping (and unprecedented) 18-page spread, the 39-year-old Moss looks hotter than ever in honor of Playboy's diamond birthday, which also includes a Q&A conducted with her by legendary Welsh singer Tom Jones.
Mert Alas and Marcus Piggott for Playboy
The two talk about life in the spotlight, Moss' ultimate dinner party guest list—among her faves are Jones, Jack Nicholson, Catherine Deneuve, Stevie Nicks and Joan Collins—and what exactly would be in a cocktail called the Kate Moss.
For the record, the catwalker says her go-to drink is the French 76, made using vodka, lemon juice and sugar topped with champagne.
Asked if she ever envisions another life for herself had she never become a model, Moss replies that she probably would have ended up in her London neighborhood of Croydon where she grew up working in a bar.
"I wanted to be at the center of things," she says. "I love working with creative people, and there was none of that where I came from. As soon as I was given a chance…I took it."
Mert Alas and Marcus Piggott for Playboy
That she did. And Playboy's editorial director, Jimmy Jellinek, couldn't be more thrilled to have Moss help celebrate the famed men's mag's big occasion.
"Playboy's anniversary edition is a testament to 60 years of beautiful women, discerning taste, sexual emancipation, groundbreaking fiction and world-changing journalism," sats Jellinek.  "Having Kate Moss, a global icon and the most important supermodel of the past 25 years, appear on our cover makes this issue the perfect way to launch Playboy's next 60 years."
Playboy's 60th anniversary edition is available digitally on iPlayboy.com starting today and hits newsstands nationwide on December 6. That same day exclusive outtakes and video from the shoot will also be available online at Playboy.com/katemoss.