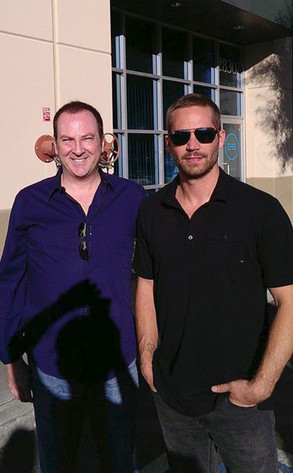 Facebook
Paul Walker spent his final hours on Saturday, Nov. 30, doing what he loved: helping others by attending a charity event for his organization, Reach Out Worldwide.
Bill Townsend, who was at the event and took this photograph with the late actor yesterday afternoon, spoke to E! News exclusively following the tragic car accident.
"He had been so happy," Townsend said of the Fast and Furious star's mood that day. "He was there at the event and had managed to raise thousands and so many people had brought toys."
"So many people had come out to support the charity and he was with his friends," Townsend added. "It was a great day for him. He was so overwhelmed to have so much support."
Townsend explained that Walker's organization meant "everything" to him, and he put "everything he could" into his charity. Walker also expressed to Townsend that he wanted to aid people in disaster situations, especially in the Philippines following the devastating typhoon last month.
Townsend left at around 3 p.m., and as he was driving home, he saw the fiery scene.