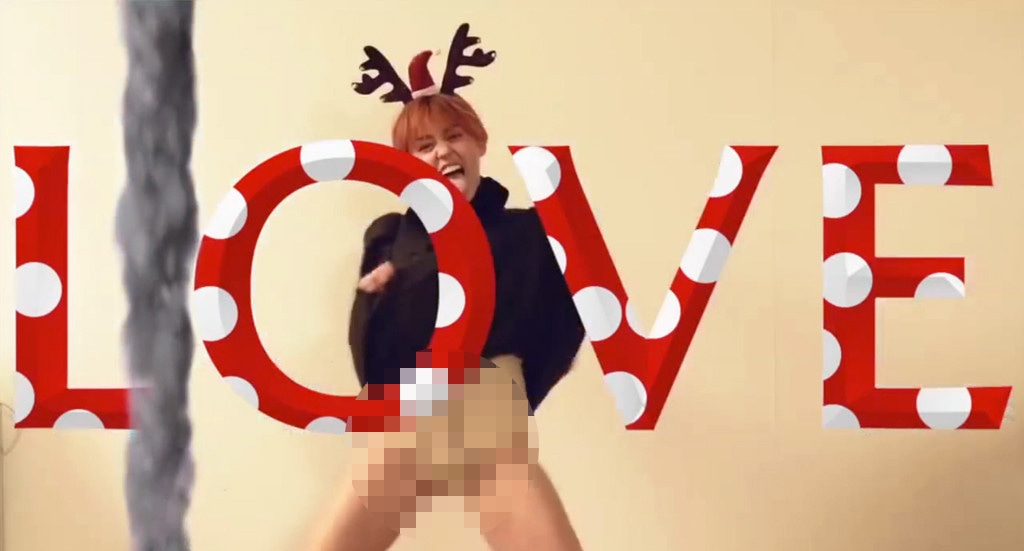 Love Magazine
Miley Cyrus is wishing you a Merry Christmas in her own unique way.
The 21-year-old pop star appears in a new advent calendar video for the UK's Love magazine, and manages to get into the holiday spirit, while sneaking in a flashing scene.
The "Wrecking Ball" singer, sporting antlers and a little Santa hat, declares "Merry Christmas, loves!" before pulling up her dark long-sleeve ensemble to reveal a nude leotard with a penis drawing.
In true Miley fashion, she sticks out her tongue between two fingers and does a little dance to the beat, while proudly displaying her dirty doodle.
"LOVE" is spelled out in big red letters with white polka dots throughout the clip and an ornament-filled Christmas tree flies across the screen at one point.
The Bangerz beauty, showing off a new red-pink tinted hair color, can also be seen galloping out of frame, probably imitating a reindeer.
"Countdown to the Love Christmas Advent," the magazine captioned a pic on its Instagram account, along with a pic of Miley straddling a photoshopped cartoon reindeer.
Her tongue is out but the smiling brown animal is covering up her undergarment.
Merry Christmas indeed, Miley!