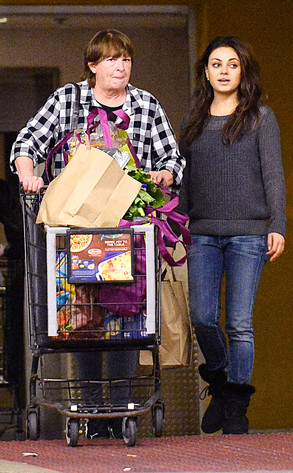 Splash News
It looks like Mila Kunis is prepping for Thanksgiving Day!
The 30-year-old actress visited a local L.A. grocery store yesterday with beau Ashton Kutcher's mom Diane.
The Black Swan star and her potential mother-in-law to-be were snapped exiting the store with a shopping cart full of goodies, including, beer, soda, greens and tinfoil wrap, among lots of other food that was packed away in shopping bags.
Kunis looked cute and casual during the shopping trip in black boots, blue jeans and a gray sweater, while Kutcher's mom sported leggings and a black-and-white plaid shirt.