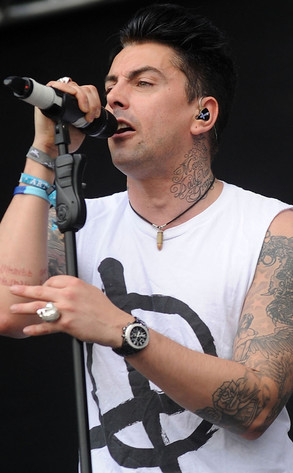 Stefania D'Alessandro/Redferns via Getty Images
Editor's note: This story was originally published with an image of Ian "H" Watkins of the band Steps rather than Ian Watkins of Lostprophets. E! Online deeply regrets this error.
Ian Watkins, lead singer of the Welsh rock band Lostprophets, has pleaded guilty to a string of child sex offenses, among them the attempted rape of a baby.
Per the BBC, the 36-year-old rocker and two women were about to stand trial at Cardiff Crown Court when he copped to 11 offenses.
Those include a guilty plea to attempted rape and sexual assault of a child under 13, though he pleaded not guilty to rape. He also admitted to conspiring to rape a child, three counts of sexual assault involving children, seven involving taking, making or possessing indecent images of children and one of possessing an extreme pornographic image involving a sex act on an animal.
Watkins was taken into custody last December and charged with 20 offenses originally. He had previously maintained his innocence, that is, until the court began hearing sickening details of the case from evidence obtained from computers, laptops and mobile phone messages at which point he made an about-face.