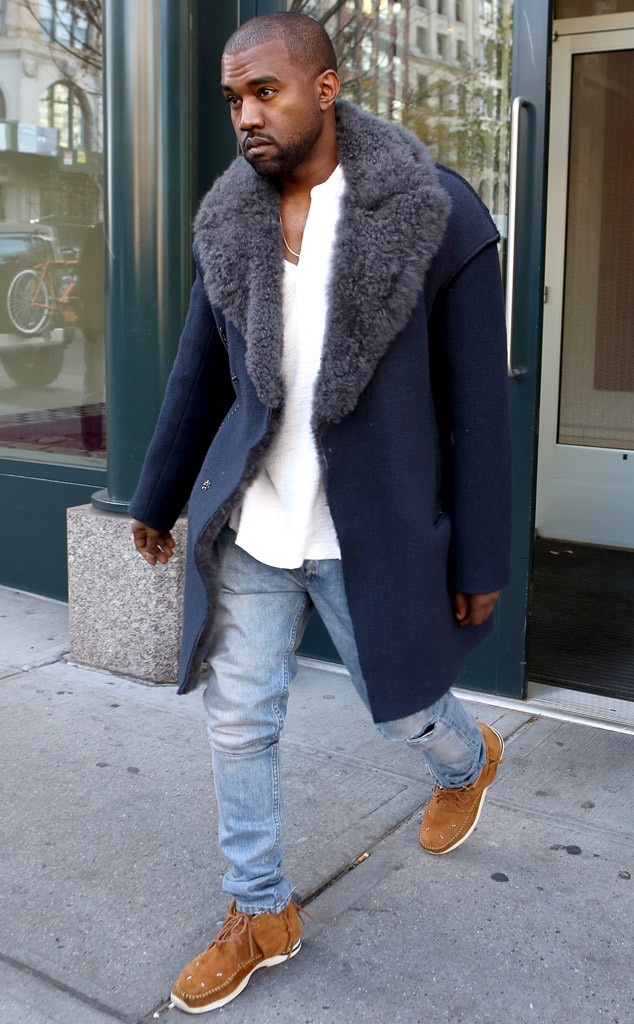 JAXN/AKM-GSI
Genius or not, there's one thing Kanye West undoubtedly is: quotable.
Over the last 24 hours, the "Bound 2" rapper has unleashed his opinions on a number of topics ranging from Marilyn Monroe to Lenny Kravitz—and literally everything in between.
And whether he's stopping by Power 105's Breakfast Club, sitting down with Sway or making a 20-minute speech at his Madison Square Garden concert, you can't deny that Mr. West has captured our attention.
So let's break down the crème de la crème of his latest remarks:
On His Inspiration: "There wouldn't be no song called "N---as in Paris" without Lenny Kravitz, because he was the first n---a in Paris. Lenny has the best taste and the dopest crib. There wouldn't be no Kanye West if it wasn't for Lenny Kravitz." Kim Kardashian's fiancé's compliment reportedly came as a big surprise to the Hunger Games actor. West apparently had no knowledge that the singer was reportedly in the audience, either.
On His Limitations in the Fashion Industry: "You ain't spent $13 million of your own money trying to empower…We are all slaves, we have all experienced [being pressured]. This is nothing but a moment out of the movie Glory." After getting into a war of words (yelling included) with radio host Charlamagne tha God, Yeezy calmed down enough to vent about his frustrations with entering the fashion world.
On Hollywood Icons: "I have a love-hate relationship with the paparazzi, but actually I love them because they are empowering us. They are empowering us over Vanity Fair that want to say that Kate Upton is Marilyn Monroe. Kate Upton ain't Marilyn Monroe, Kim is Marilyn Monroe." Kanye was referring to the Sports Illustrated model's most recent cover with the fashion magazine, where Upton channels the Hollywood icon for their 100th issue.
On Leather Jogging Pants Skirts: "When I was in Chicago [for the Watch the Throne tour] I was gonna change my outfit…'Nah man! You can't be scared…I want you to wear that kilt in Chicago. I want you to release that fear. I want you to show as an artist that you can create to the highest level." Rappers wearing skirts is so the new women burning bras, you guys.
On Royalty: "My daughter is in a position of a level of royalty like the prince and princess in London." Hmmm…perhaps a playdate between Prince George and North West is in the near future?
On His Reputation: "If [Kim and I] were to break up, I'd be the one that's looked at as an a--hole." The 36-year-old has spent a considerable amount of time anticipating how he is perceived in his relationship…clearly.
On Politics: "Don't nobody care about that Obama wearing…Do you care about Vogue? Do you read that? I don't care what position anybody got. You are either helping me or hurting me." This isn't the first time he's spoken out against the first lady and president. Last month he told Ryan Seacrest: "No one is looking at what [Barack Obama] is wearing. Michelle Obama cannot Instagram a [bikini] pic like what my girl Instagrammed the other day."
On His Empire: "It's Drake season now. I'm the Tupac of product. You're gonna see I'm better than Ralph Lauren, you're gonna see that I'm gonna be bigger than H&M, bigger than Louis Vuitton." And given that he just told fans to boycott the famous French fashion house…he may live up to his word.
On Being Ahead of the Game: "People looked at that interview from 10 years ago and said, 'I loved him back then.' People didn't love it back then though. I was speaking to the future. I'm 10 years ahead mentally." To put things in perspective, 10 years ago West had just released "Through the Wire," the first single off of his debut album to rave reviews.  So…people loved him back then, too.
On Luxury Goods: "We're controlled by a Nike sign, we're controlled by peer pressure. Why do Benzes cost so much? I like a Balenciaga sneaker because it's designed better, and then it's kids out there buying $1,000 sneaker, spending a month's worth of pay because I wore it and it makes them feel like that's what they need to have in the club." Keeping up with Kanye ain't cheap (or even logical), ladies and gentleman.