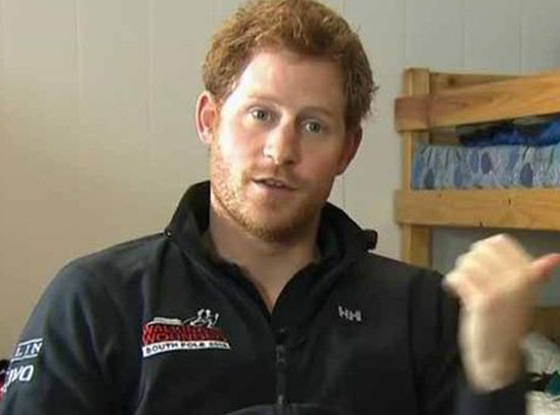 BBC
Prince Harry may be in the midst of a 200-mile journey in well below freezing temperatures, but according to the royal, Prince William is envious of his getaway!
During an interview with BBC, the 29-year-old said, "My brother, I think he's just quite jealous I managed to get away from a screaming child."
Surely little Prince George can't be that bad!
But all jokes aside, the rugged ginger did reveal that Prince Charles was slightly worried about his son's safety throughout the South Pole trek.
"My father was a little bit concerned, I obviously tried to keep him calm by saying the North Pole was the dangerous one because we were walking on frozen ocean, whereas this time, yes, there's crevasses, but hopefully the guys will take us around that."
He added, "Apart from frostbite and stuff like that you should be able to look after yourself."
Back in 2011, Prince Harry also participated in a Walking With the Wounded excursion to the North Pole. So this should be a walk in the park for the Brit, right?
The official start date is set for Nov. 30 and Kensington Palace officials hope that the groups reach their South Pole destination by Dec. 16.
Things may change, however, considering that the journey has been postponed for several days due to very high winds and a severe snowstorm.
Prince Harry, who's sporting a new red beard, spoke about painstakingly waiting in the Antarctica base camp while the weather calms down.
"Unfortunately we've had really rubbish weather for the last four days which has meant a lot of lying around," he admitted.
All participating team members will race 208 miles across the Antarctic Plateau and are expecting to travel approximately 10 miles a day.