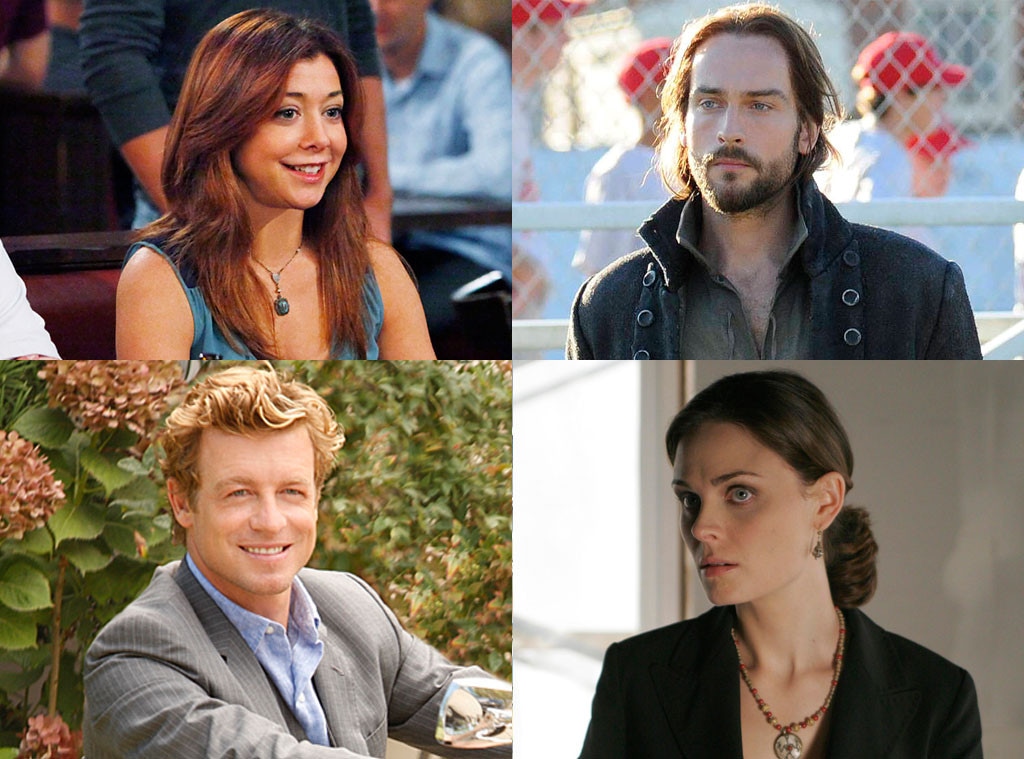 CBS, FOX
Happy early Turkey Day, friends!
What better way to celebrate Thanksgiving than with some delicious scoop on your favorite shows that will you fill you up, but still leave room for all that delicious, delicious food you'll be binging on tomorrow? In today's Spoiler Chat, we've got scoop on two major flash-forwards coming up on How I Met Your Mother, a long-lost sibling reveal on Bones and a major guest star that will be showing up on Sleepy Hollow soon.
We've also got spoilers on Mary's mother coming to the castle to stir things up on Reign and what's next for the team on The Mentalist now that Red John is gone. Plus, there's scoop on The Mindy Project's surprising return and more!
Sarah H.: Beauty and the Beast scoop, please and thank you!
Well, we don't know if you'll be thanking us after this tease, but here goes nothing: One of our main characters will be put in some serious danger when they are kidnapped and locked in a cell for nefarious purposes. Here's hoping that if they make it out of the experience alive, they won't be a completely different person.
Debbie: Desperate for some HIMYM scoop!
Strap in, 'cause it's flash-forward time! Not only will we meet an 18-year-old Marvin on the CBS hit sitcom by series' end, but we'll also meet a younger version of the son (David Henrie) and the daughter (Lyndsy Fonseca)! (Prepare to say "awww!" when you see the latter. A lot.)
Fiona: Still can't get over The Mentalist revealing and killing Red John! Thanks for telling us what's next for Jane, but what about the rest of the team?
Funny you should ask, as creator Bruno Heller says the CBI team is heading into unknown territory for the first time in the show's history, so he's a bit curious as well. "I think for the other characters it's a little like they're children of divorce, you know, what's next? They've been enthralled in someone else's mission and now that mission is gone," he explains. "They were in a world they didn't choose and now they're in a world that's changing around them, again not of their own volition. What this is going to be for these characters is a process of growing up." (Of course, Amanda Righetti has confirmed her exit from the CBS series.)
Megan: The Mindy Project is so, so good this season. But I'm going to need some spoilers to help the pain of its upcoming hiatus!
Pack your bags! Seriously, the gang is heading to Los Angeles and we're all invited. Mindy, Danny, Peter and the gang will all head to the West Coast for a big conference in an upcoming ep. But it's not all fun in the sun as the trip will also serve as the surprise return of [spoiler]! (Seriously, it's too good to fully spoil.)
Cody: Ugh, can't believe I have to wait a whole week for a new episode of Arrow! Anything you can tease to make the wait more bearable?
Hmmm…how about that the puppy love between Felicity and Barry Allen (Grant Gustin makes his debut in the episode!) is too freakin' cute?! Oh wait, you watch Arrow for the action and drama? OK then: Oliver shoots one of these five people with an arrow: Sin, Thea, Roy, Lance or Diggle. Speculate away!
Maurissa: Loving Bones this season and I love that I now have a good excuse to stay home on Friday nights! What's coming up?
Season nine, time for a long-lost sibling! Yes, one of the team members will learn they have a brother they never knew about in an upcoming episode. But their new family member will not be doing too well. (He could possibly recur, by the way.)
Katelyn: So excited to hear Amy Brenneman is playing Mary's mother on Reign! Any scoop on what we can expect?
"That's a fantastic character. When she does come to court, you can imagine that personality, you can imagine Catherine and those two together," showrunner Laurie McCarthy teases of Mary's mother, whose arrival will "throw Mary for a loop." But don't expect any warm and fuzzy moments between the mother and daughter as she previews, "Catherine may start to look like a very warm mother soon." Yikes!
Phillip: Sleepy Hollow is hands down the best new show of the year! Any chance we'll see any more historical figures this season?
Fans will meet George Washington by the end of the season. In fact, the first POTUS will be introduced before the finale and will have gravitas for days. We're guessing we'll see him in flashbacks was Katrina as Katia Winter tells us, "Who do you think introduced Ichabod to George Washington?" Love. It.