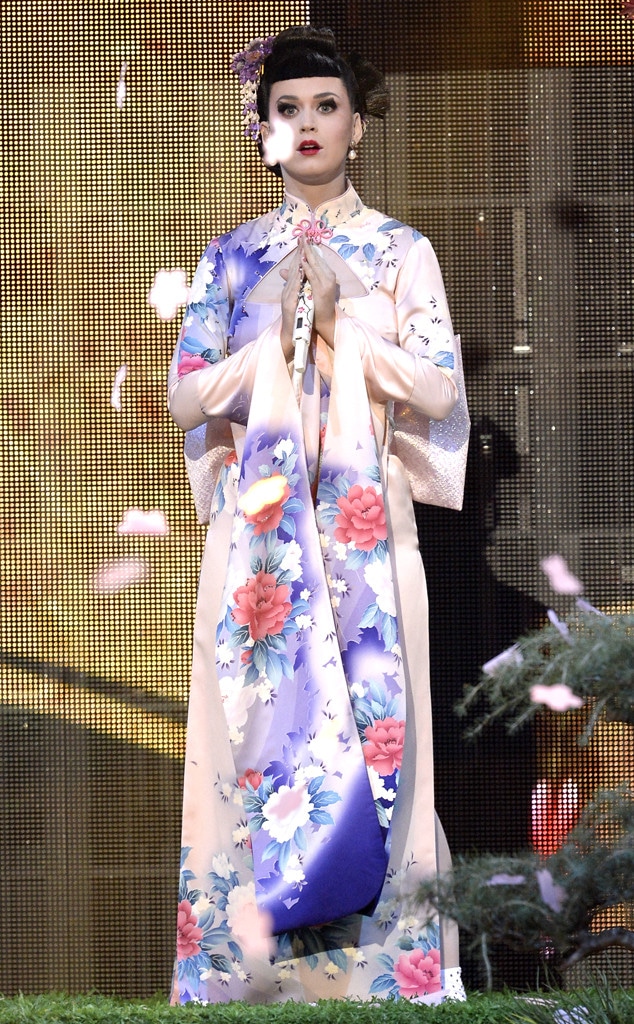 Kevin Winter/Getty Images
Katy Perry was inspired to dress like a geisha because she digs the fashion. That's all.
"Katy and I both love Japan," the pop star's stylist, America's Next Top Model creative director Johnny Wujek, exclusively tells E! News, explaining the inspiration behind the kimono-style gown that she wore to sing "Unconditionally" last night at the 2013 American Music Awards.
Her outfit and the staging have drawn criticism for glorifying what amounted to the indentured servitude of women, one of the darker aspects of historical Japanese culture.
"The people are so kind, there's so much there visually," explains Wujek, who would not comment on the backlash. "Just walking around [in Japan], you feel something. We wanted to try and encompass that in the performance somehow, almost a tribute."
Other than Cosmopolitan, which pointed out that Perry's dress was a perhaps-mistaken mishmash of Chinese and Japanese style, the negative backlash has mainly been centered around the idea that Perry was indeed paying tribute—to something shameful.
"In short, this was a a full-barreled technicolor assault on a quarter-millennium-old set of traditions that would've given any self-respecting denizen of Kyoto's Gion District a massive fatal heart attack," wrote the Wall Street Journal's Jeff Yang.
Asked what she thought about the controversy, Lady Gaga tried to see it from a more empowered angle, suggesting to L.A.'s AMP 97.1 about Perry's outfit, "Maybe it's because 'Unconditionally' means you're supposed to love no matter what and geishas are paid?"
Moreover, Gaga added, "I think people are generally too sensitive and they should just leave her be—but you know, I'm not really the person to ask."
Perry's performance does indeed sound as if it was a fashion-first production, inspired by a picturesque visual and nothing more.
Wujek said it took four days to get the Prism artist's costume ready and his team worked around the clock getting ready for Sunday night.
"We had the most amazing woman helping us from this store in Pasadena, Kimono no Kobeya," he told us. "She oversaw everything we were doing and made sure that it maintained all of its authenticity. My assistant, Sam, found her when she was in downtown L.A. There were two woman wearing these gorgeous kimonos, and she chased after them and asked where they got them. It was this woman and her store!"
"All of the dancers wore original geishas [dresses], and Katy's version was a little more modern. For her we took a stunning real kimono and reworked it more into a gown." 
Asked about Perry's plans for the Grammys next year, however, Wojek's lips were sealed.
"I can't reveal that," he said. "We like to be inventive and more in the moment basing our looks off of recent events, experiences, or current inspirations."
And who knows what will have caught Katy's fancy by then?!