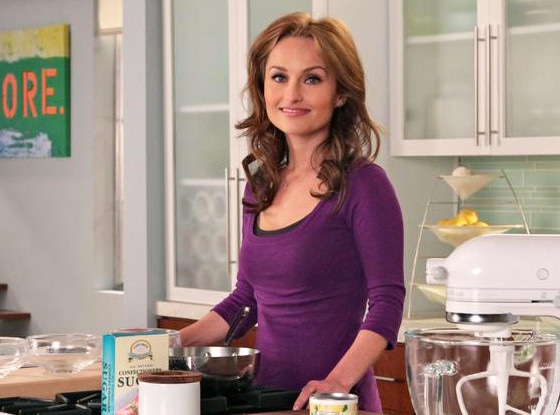 Food Network
Ouch!
Giada De Laurentiis suffered a gory accident and sliced her finger during the Food Network's annual Thanksgiving Live special on Saturday, Nov. 23.
The Italian-American chef's knife slipped while she was trying to cut some turkey she had just prepared. 
"She seemed to go pale and got very quiet putting pressure on it and whispering to Ina that it was bad," an eyewitness told Radar Online. "She looked like she was about to faint."
The 43-year-old immediately left the show to receive medical attention for her deep cut.
"Before & After.....an adjustment to my normal mani! #backtonormalin2wks #thanksgivinglive," she captioned an Instagram pic, which showed her finger before getting stitches and after.

De Laurentiis was a trooper and returned back to the kitchen with her bandaged pointer finger.
Chefs Alton Brown, Ina Garten and Bobby Flay joined De Laurentiis for the holiday-themed TV program
Brown took to Twitter to provide some humorous updates about the bloody mishap.
"#savegiada's finger," he wrote.
And in response to a fan asking about De Laurentiis because she was unable to watch the show, he quipped "we did locate the end of Giada's left index finger in the stuffing. Rushing to hospital now."
De Laurentiis seemed to enjoy this comment, and replied with a smiley face.
Before the show, she posted an Instagram video featuring several delicious plates, including turkey, cranberry sauce and stuffing.
Hope your finger feels better soon, Giada!