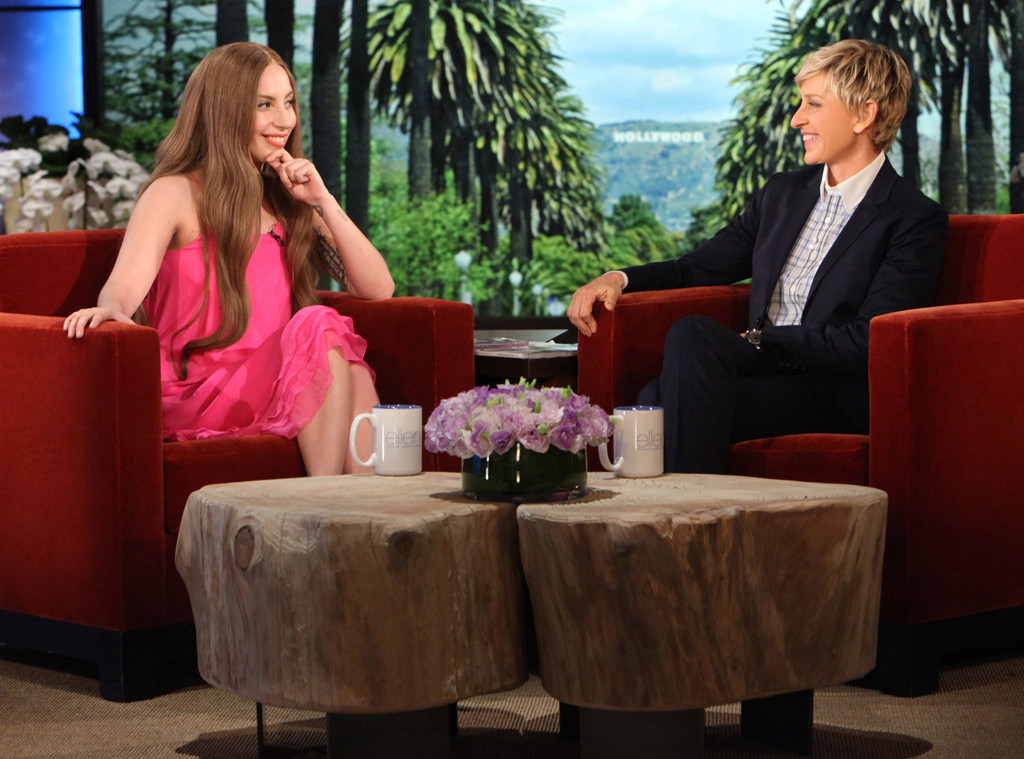 Michael Rozman/Warner Bros.
For anyone who thinks that Lady Gaga and Chicago Fire star Taylor Kinney make an odd couple, wonder no more what makes them tick.
"Well, he's a hidden weirdo. He is extremely strange, actually, and we complement each other's weirdness," Gaga explained to Ellen DeGeneres in an interview airing Monday on Ellen.
"That's actually one of the first things he ever said to me. It's a Dr. Seuss quote that you find in someone else a compatible weirdness. And it was one of the first things he's said to me. It was so...and you know it's funny. The first time he met me it was one the set of the 'You & I' video—oh, you have to show a shirtless picture," the singer added as a photo of her hunky beau flashed onscreen.
Gaga recalled looking "ridiculously crazy" on the set of the video, which featured Kinney as her love interest.
"So I've got these pins sticking out of my head and I'm wearing cork and I got no hair and I'm bald. And I mean, why he found me attractive just completely behooves me," she marveled. "And we were in the middle of this scene and I remember that he kissed me and it wasn't scripted for him to kiss me and I was sort of like was, 'Um, you know, was that real or was that fake?" And he didn't really say anything and that was fine by me and we kept filming. And you know, at the end of the day he's my best friend and having your lover be your best friend. I mean, it's the best thing ever. It's the best thing I can say about it."
"We're boys," she added. "I wear his flannels, we eat pizza, we watch TV and then I play him my next single and ask him if he likes it. And that's our normal life.
Doesn't sound that weird to us!
So we're guessing that her current beau didn't provide the "unfortunate sexual experience" that inspired "Dope," off of her new album, Artpop.
"'Dope'" is like that moment at the end of the party when you just had a little too much to drink and you start to, you know, think about your own mortality and think about your life, and I wrote a song that's essentially an 'I'm sorry' to my fans, to my parents, to my lover. And I'm saying I'm sorry that I withdrew so much...I guess that's kind of a really personal thing to talk about, but here we are," Gaga explained.
She reiterated that her art, including how she dresses, is a true reflection of who she is, and not some put-on for show.
"And whether that makes me crazy or insane I don't know, but it's my truth, so I'd rather just be open about my own insanity than allow anyone to think that I'm like in a room somewhere generating what next thing I'm going to shock you with. That's not what I do," Gaga insisted. "What I do is, I'm myself everyday and I make records that I hope will touch one fan's life. That one person that feels the same sort of insanity that I feel."