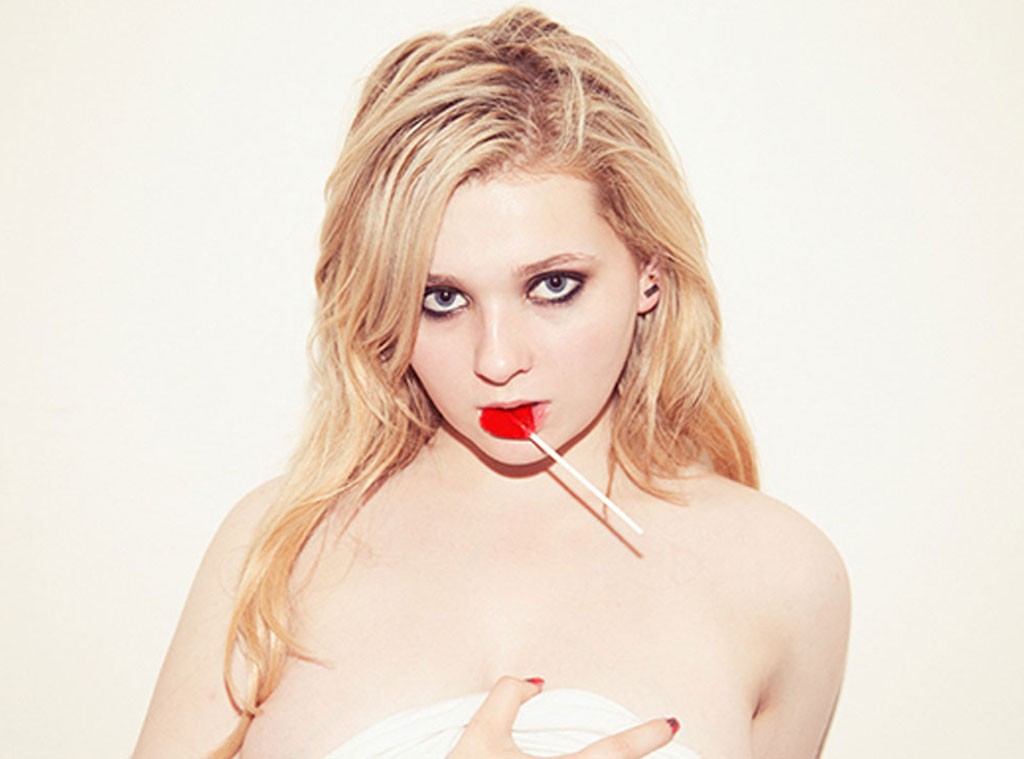 Tyler Shields
Abigail Breslin wants to make sure everyone knows she's not the same little girl from Signs. And she's doing a pretty darn good job.
The 17-year-old actress has taken her big-girl transformation (which initially included a lighter hair color and some dark eye makeup) to the next level by posing topless for some very risqué photos with celeb photographer Tyler Shields.
The Dirty Side of Glamour author's series of photographs of the young star revealed a much more provocative side than what the public is used to seeing, with photos of Breslin posing in a bubble bath with heavy eyeliner on and sucking on a lollipop while covering her bare breasts with a sheet.
"I wanted to do something iconic with her, something simple but timeless," Shields tells E! News. "She's the perfect subject for something like this. Incredibly talented, beautiful actress but no one has ever seen her like this. There's fun in that—showing someone to the world for the first time."
He continues, "Ever since we did Final Girl last year, she has grown up so much while making the movie, I put her through a lot so it was easy to do this. We have a great working relationship and I'm happy to see her all grown up."
Shields adds that Breslin was "great" on set, telling us "she was game. She knew exactly the goal and we shot it like a movie. This is the scene and she executed."
As for what Abigail thought of the final product: "She loves them. I think anyone would love to have these photos taken of them. Forty years from now, she will be even happier!"
And although these photos (and a lot of Shields' work) contain an OMG-factor, he's not in the business to shock people. "I have given up on trying to figure out what people will think," he tells E! News. "I just keep busy making art."
E! News also spoke to Breslin about her photo shoot with Shields, while at tonight's Golden Globes awards season kick-off party in West Hollywood.
"Tylers one of my really good friends. He's like a brother to me. I love him. I did a movie with him last year and he's such a great guy and he's always the most fun to shoot with. I always have a good time," she told us, and said she "loved" the photos, "I was excited. I loved them. I love working with Tyler, we always have a blast. We just do it for fun and he's great."
The teen star also mentioned that her mature look isn't necessarily to make a point.
"I don't make these conscious decisions to do it to like prove to the world that I'm grown up. I think people see my work and see what I do and see that I'm grown up. But yeah, I'm almost 18. Every headline for the past three years has been 'Abigail Breslin All Grown Up,' so I am kind of growing up. I do want to try different things but its all for fun."
—Reporting by Brett Malec
What do you think of Abigail Breslin's racy shots? Sound off in the comments!