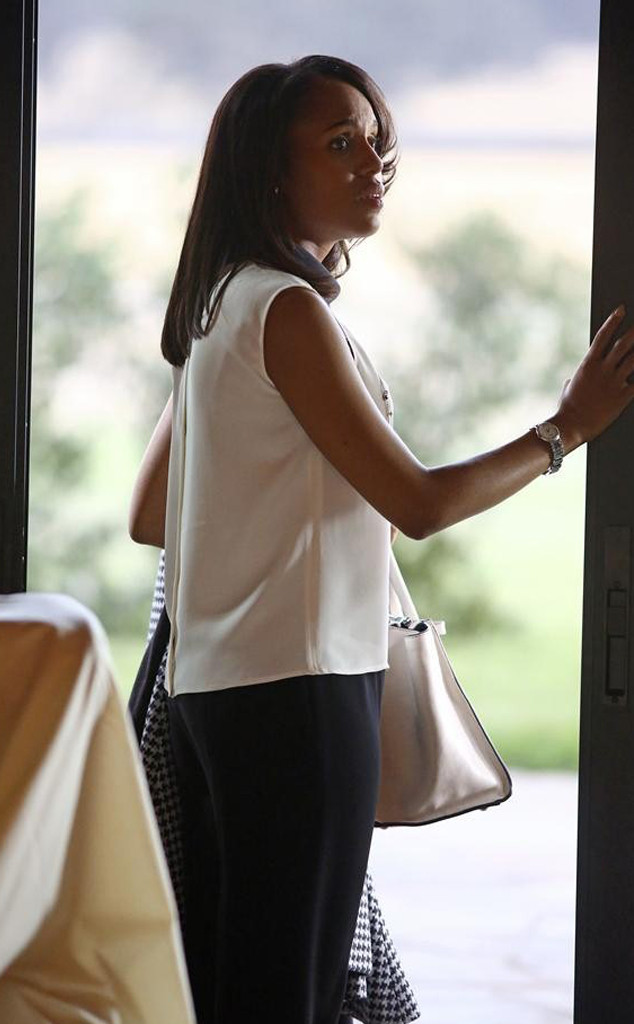 ABC/Michael Ansell
Warning: We're about to run down the biggest TV moments from Thursday night. If you don't want to be spoiled on a particular show, skip to the next!
Scandal: Shonda Rhimes warned us on Twitternot to eat until after the first commercial break, and now we know why! After Rowan (Joe Morton) refused to let Maya (Khandi Alexander) see Olivia (Kerry Washington) before he moves her to a facility that's farther away, she cuts her own wrist using her teeth. Woof. Don't worry, she is discovered before she dies, and Rowan shows Maya articles and press clippings of their daughter to placate her.
Rowan also drops hints that make it sound like Maya was the one who planted the bomb on the plane, but before we can think more on that, Maya escapes and just shows up at Olivia's house and greets her long-lost daughter: "Hi, Livvie." Like everything is normal.
But before mommy dearest appears, Fitz (Tony Goldwyn) sends a chopper for Olivia because she isn't taking his calls. They meet at a house in Vermont, but it's not just any house...it's a house they he claims he built for the two of them. That's all Liv needs to drop her panties and get down with the POTUS again. We can't really blame her.
Finally, Cyrus (Jeff Perry) and Mellie (Bellamy Young) succeed in getting James (Dan Bucatinsky) alone time with Daniel Douglas Langston (Jack Coleman) in an effort to blackmail him. But when Cyrus gets the pictures later on in the evening, his husband looks more than happy to be on the receiving end of Daniel's adoration.