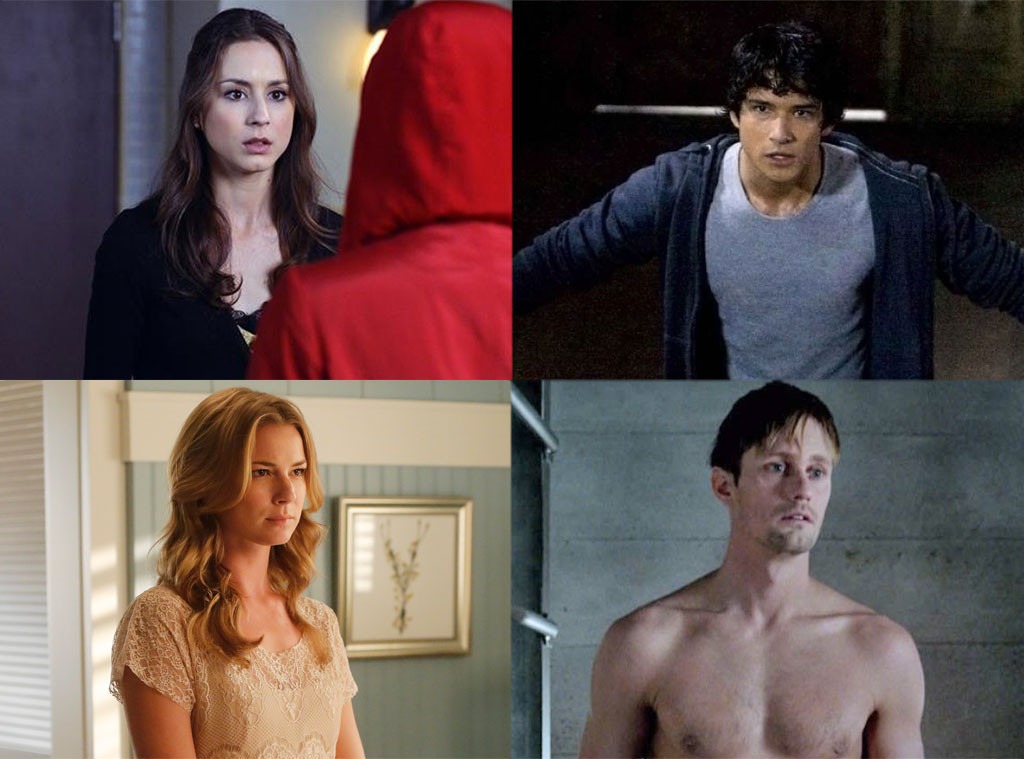 Christmas has come early, TV Lovers!
We don't care if you were naughty or nice this year, we just want to stuff your stockings with some shiny new spoilers. From a hot new lady love for [Spoiler!] on True Blood, to Revenge's jaw-dropping blasts from the past, and Pretty Little Liar's shocking new secret, we've got something that will bring you plenty of holiday cheer.
Plus, get the latest scoopy details from The Originals, Teen Wolf, Criminal Minds and so much more!
Drew: I'm tired of missing True Blood. I know it won't come back until next summer, but do you guys have any scoop?
You can bet your vampire-loving heart we do! Last season, we all giggled and gasped when Eric burned to a crisp whilst bathing naked in the Swiss Alps. Now, prepare for a wave of good news to wash over you because… Spoiler Alert: Eric lives! And he's getting a super gorgeous love interest: Slyvie is a drop-dead gorgeous and can speak fluent French. Sorry, Sookie, but all you can do is nag people to death and sometimes glow.
Jackie: I saw you guys were on the Teen Wolf set. In desperate need of scoop!
Someone will be on the brink of death throughout the majority of season 3B! Relax, take a deep breath and find comfort in the fact that Holland Roden tells us Lydia has barely screamed this season, which is good considering her Banshee power is being able to sense impending death.
McKenna: Gimme anything you've got for Hart of Dixie!
Grab a fan because it's about to get super hot in Bluebell—and no, we're not talking about the weather. Prepare to meet Enrique, a devastatingly attractive poet who is charming, passionate, and incredibly romantic. We'll be seeing quite a bit of Enrique later this season when he tries to win the heart of [Spoiler!] Did you think we would actually reveal the lucky lady? Trust us, you'll definitely want to be surprised for this one…
Sabrina: Anything juicy to share on The Originals?!
How about that we'll see one of the Original siblings, Klaus or Elijah, kiss someone in Tuesday's episode? Oh, you need more? How about that Elijah and Hayley share a sweet moment where they [spoiler]?!
Lindsey: Revenge is killing it this season! Can you give me some spoilers to feed my frenzy?
Brace yourselves, Hamptonites because we're about to get two major blasts from the Grayson family's past. We all know that Conrad was married once before Victoria—but did you know that we'll be meeting her very soon? Well, no you didn't, but we'll fill you in! Stevie is a gorgeous gal who is just as posh as Victoria, except she hails from the super sunny west coast so she'll have much better tan.  She'll appear unexpectedly in episode 13. Joining her in the same episode is Jimmy Brennan, Patrick's handsome and rugged biological father. Yikes! Things are about to really heat up in the Grayson household…
Maya: I'd love some Criminal Minds spoilers please! Possibly stuff on the 200th episode?
Ask and you shall receive! The 200th episode of the big CBS hit is sure to be an hour to remember—and newbie Michael will most definitely be a character to remember. Michael will a have a big part that night in our beloved procedural drama. So who is he, you ask? Michael is a former military man who is the perfect combination of good looks, intelligence, and courage. Plus, he's not afraid to bend the rules—or just completely ignore them—in order to get a job done.
Natasha: Thank you so much for all your Pretty Little Liars scoop! Do you have any more?
We chatted with the always incredible, Trioan Bellisario, at the annual Pretty Little Liars Halloween bash and we've be saving this special spoiler just for you! The pretty little star exclusively told us that we're going to be learning a lot more about Spencer when season four returns in January. "What you're going to see in 4b is a very, very interesting secret that you never knew, that we never talked about with Spencer." the actress explains, "It really, really affects her relationship with Toby and with the girls, and it reveals a lot about why she wasn't passed out with the other girls the night that Alison died. I'm so excited we're finally getting into that, because I've been waiting for seasons to get into that."
David: You guys should give more FX spoilers, like Anger Management and stuff.
Oh look! We've found a rare Charlie Sheen fan! To reward you for standing by your man, here's a scoopy little bit from an upcoming episode of Anger Management: In an episode entitled, "Charlie and Sean Fight Over a Girl," you'll never guess what Charlie and Sean do. They… (Gasp!)... fight over a girl! We're pretty much clairvoyant over here. Prepare to meet Molly, a smokin' hot little hottie from Iowa who is as innocent as a lamb. Let's see how fast these fellas can corrupt her while showing her around LA.