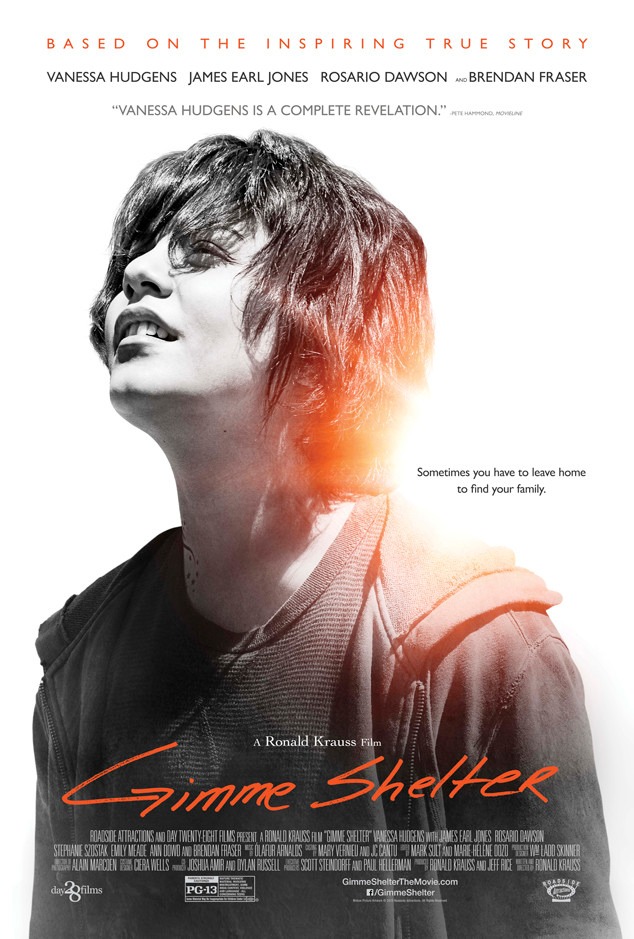 Roadside Attractions
Vanessa Hudgens may not be a mom in real-life but she plays a teenage one in the movies.
In Gimme Shelter, the Spring Breakers star plays Apple, a homeless 16-year-old mother-to-be who finds help at a suburban shelter. Directed by Ron Krauss, the movie also stars Rosario Dawson as Apple's mom and Brendan Fraser a her dad, a rich Wall Street man she's never met.
"Every single day was definitely a challenge but one I embraced with open arms," Hudgens tells me. "It was just so thrilling top be able to push myself every day and see how far I could take it.
"Probably the most physical and emotionally draining scene was my birthing scene," she said. "I've never shot a birthing scene and I ended up popping blood vessels in my face."
Hudgens also called the experience "surreal."
"It's an odd, it really is," she said. "I mean, I totally had a connection with my baby—my movie baby—and I just had so much love for her but afterwards they call 'cut' and take the baby away and I'm just left there hanging."
Hudgens gained 15 pounds for the role as well as cut off her beautiful long hair.
And only E! News has the first look at a new poster for the film. The one-sheet shows Hudgens heavier and with choppy short hair.
"Me and the hairstylist started cutting it and Ron came into the room and he's like, 'It just looks like it's been so done,' and he said my character cuts it herself," Hudgens said. "So, I was like, I'll do it myself and then I just started chopping away. It was really freeing."
Putting on weight wasn't hard because Hudgens is a self-described "foodie."
"Getting it off was the more difficult part," Hudgens said. "It was a lot of exercise…Just doing a lot of cardio, a lot of yoga and just really anything active."
Gimme Shelter hits theaters on Jan. 24.