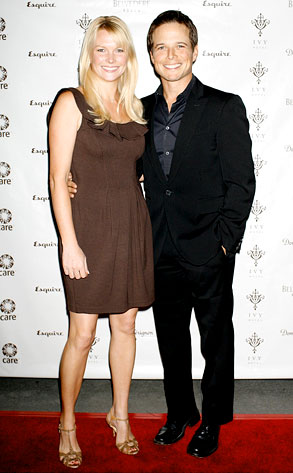 Robert Benson/Getty Images
It's a Party of Five all over again! On Tuesday, Nov. 19, actor Scott Wolf announced that his wife, Real World: New Orleans alum and life coach Kelley Limp, is pregnant with their third child. The spouses of nine years will welcome their baby girl in May 2014. The Wolfs are already parents to sons Jackson, 4, and Miller, 1.
"Our two boys are pure magic and the light of our lives," they tell E! News in a statement. "So unbelievably happy that they get a little sister, and we get a baby girl. Can't stop smiling these days."
From the moment Wolf shared his wife's baby news with the world, Wolf he the jokes about his '90s TV show were inevitable. "I will be the first to say, yes, we are a party of five," he told Access Hollywood's Billy Bush.
UPDATE 11/20/2013 at 9:36 a.m. PST: "Having a daughter in May. She will own me," Wolf tweeted. "I'm already mad at the boys. No words could express how full our hearts are. Luckiest guy I know."