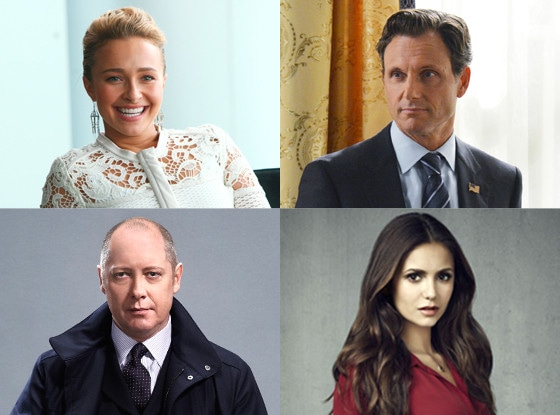 ABC/Mark Levine, ABC/Eric McCandless, Justin Stephens/The CW, Patrick Ecclesine/NBC
Watch out, Tatiana Maslany!
Though  the Orphan Black star currently holds the record for playing  the most characters on a single show, Nina Dobrev is quickly catching up to her on The Vampire Diaries thanks to all the doppelgänger drama, which we've got scoop on in today's Spoiler Chat.
And that's not all we've got in store for you today, as we've included details on Teen Wolf's super-scary return (is it Jan. 6 yet?!), two of Scandal's biggest players getting into "hot water" and Nashville's surprising partnership! Plus, we've got spoilers on The Blacklist, Nurse Jackie and more...
Debbie: Got anything on my new TV obsession Reign?
Someone's going to learn about Nostradamus' prophecy (you know, the one in which Francis will die if he marries Mary?) very soon. And the fallout will be pretty freakin' epic.
Christina: I can't lie, I totally geeked out over seeing three versions of Nina Dobrev in one scene on The Vampire Diaries, so I was sad to see Amara go. Please tell me Katherine will be OK!
Things aren't looking good for our favorite sassy vamp-turned-human, which means she'll have to rely on those around her for help. "As Katherine grows weaker, Nadia is fighting to take care of her and have her in her life," Nina Dobrev spills. "You learn [Katherine] wants to have that relationship, but she keeps screwing it up." But it seems like Dobrev's workload might not lessen anytime soon as she spills to us, "Now they're alluding to a fourth [doppelgänger], although we haven't done anything, so I can't say if that's going to happen for sure." Someone book this girl a vacation STAT!
Jean: Scandal is my everything this season. But can it really top last week's episode?!
Yes, it most certainly can and shame on you for thinking otherwise! "Buckle your seats, Gladiators, because if you were missing any kind of adrenaline rush, it's coming. It's coming. It's crazy!" Jeff Perry teases. And fans can look forward to more amazing scenes between Perry and Bellamy Young as he spills, "Mellie and I are aggressively trying to fight off all challengers and create a Fitz reelection and some of our strategy gets us into tremendous hot water. It gets me into domestic hot water with James." Ugh, just wake us up when it's 10 p.m. on Thursday, OK?!
David: In desperate need of scoop on The Blacklist! Help a TV fan out, will ya?
Hell hath no fury like Red scorned…which someone in an upcoming episode will learn when they help one of his enemies betray him in a big way. Like, taking-a-hit-out-on-our-fedora-wearing-baddies'-life big way.
Thomas L.: Ah, I need to know about the Teen Wolf winter premiere! What can you spill?
How about that it opens on a sweaty Stiles in bed? And that he's not alone? Of course, we're not going to spill if it's a dream sequence or not. (A TV reporter's gotta have her secrets!) But we can share with you that Stiles is in a pretty dark place, and we can't even recall a single snappy one-liner he's known to drop.  Psst… we're also going to be visiting Beacon Hills today so leave your burning questions in the comments!
Kimberly: Any dirt on Nashville you're willing to part with would be greatly appreciated!
Is the ice between Rayna and Juliette thawing…for good?! In an upcoming episode, viewers will see Rayna make a big sacrifice in her professional life to stand out for her one-time rival. Hm…could this mean Juliette be switching record labels in the very near future? (Also: Yay girl power!)
Klein: Always in need of Beauty and the Beast spoilers!
In episode 11, one of our main characters will be smack dab in the middle of a terrifying hostage situation that could put them in serious danger, or worse, the morgue! We're happy to tell you it's not Vincent or Catherine, although they are definitely involved with the deadly drama. But on the bright side, out of this crazy ordeal comes a new...wait for it…hero!
Porsha: Because you guys are my only source for Nurse Jackie spoilers: what's going on with Coop, aka the best character on the show?
Whoa! Bold statement. Although we do agree that Peter Facinelli is freakin' fantastic and deserves much more recognition. But we digress. Coop will be rocking it in the love department by getting serious with a certain lady that works at the hospital. And by "rocking it", we mean eventually she'll agree to be exclusive with him. But the road to that is a long and winding one, probably with lots of boob-grabbing along the way.