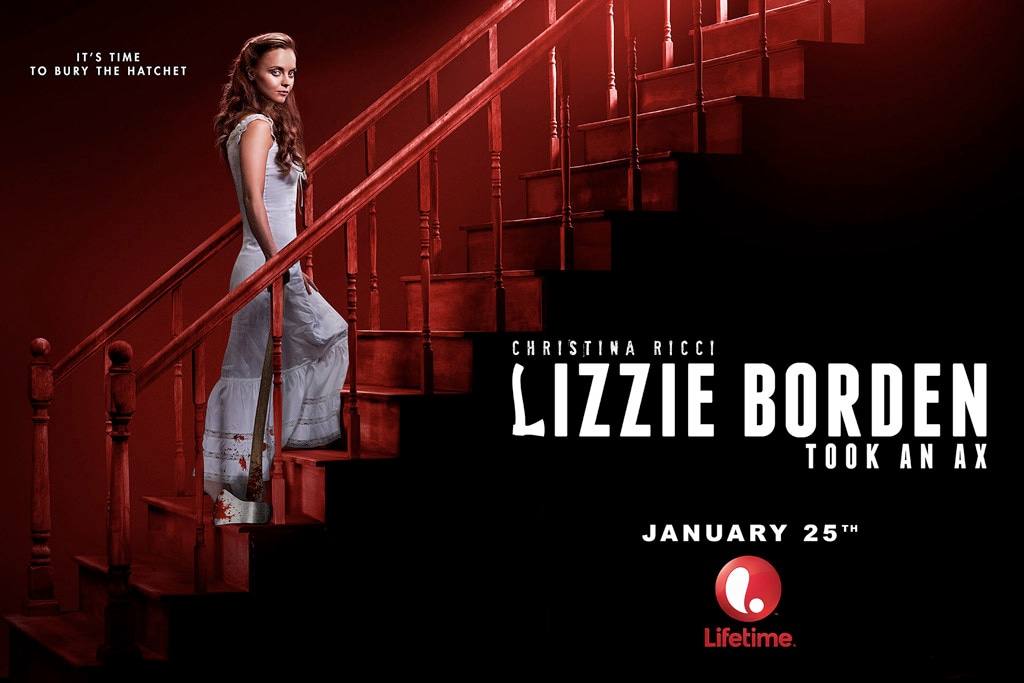 Lifetime
If looks could kill...
Christina Ricci looks downright deadly in the poster for her new Lifetime movie Lizzie Borden Took An Ax, which premieres Jan. 25 and tells the story of a school teacher accused of killing her family in 1892. You know, just your average fun family fare!
In the first look at the film, Ricci is dressed in a white nightgown while holding a bloody ax, with the poster reading, "It's time to bury the hatchet." (Subtlety, thy name is not Lifetime!)
The telepic brings an infamous schoolyard rhyme ("Lizzie Borden took an ax…and gave her mother forty whacks...when she saw what she had done, she gave her father forty-one") to life as it follows the trial of Borden, when she was accused of brutally murdering her parents.
After arriving to find Borden's father, stepmother and sister (played by American Horror Story: Asylum's Clea DuVall) violently killed, police quickly suspect Lizzie, a Sunday school teacher. And as her lawyer Andrew Jenning (Billy Campbell) is proclaiming her innocence, the case and Lizzie's possible guilt take over headlines, sparking debates across the country and making her name infamous.
We won't spoil the outcome of her trial for those who don't know/want to find out by watching the film, but you can check out Borden's Wiki page if you're dying (Get it?!) to know.
Back in September Ricci tweeted about the film, saying, "Saw my new movie 'Lizzie Borden'! Naked patricide, always a crowd pleaser. ;)"
And Ricci's new film isn't the only one garnering attention for Lifetime as the network's first trailer for its highly anticipated Flowers in the Attic remake, which stars Heather Graham and Mad Men's Kiernan Shipka, caused quite the stir on social media after its release. (Incest tends to do that...or so we hear.)
Lizzie Borden Took An Ax premieres Jan. 25 at 8 p.m. on Lifetime.