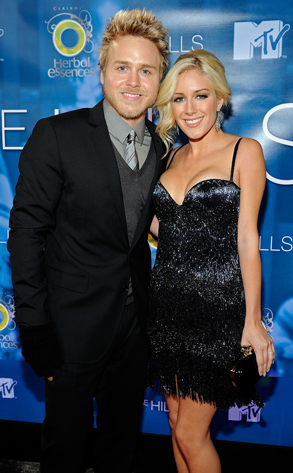 Frank Micelotta/Getty Images
Welcome back, Speidi! Heidi Montag and Spencer Pratt—the couple viewers loved to hate on MTV's The Hills—will be returning to the small screen on Monday, Dec. 9, in an exclusive E! special, After Shock: Heidi & Spencer. The spouses will discuss their rise to fame and their life outside the spotlight.
Adjusting to a life of normalcy after becoming a recognizable reality star came as a shock to Pratt. "The second [The Hills] ended, in 2010, the jig's up. Now you're irrelevant. Your 15 minutes are up," he says.
Midway through The Hills' sixth and final season, Montag and Pratt were phased out of the show that made them famous. The "Superficial" singer went on to compete on Vh1's Famous Food in 2011, and the two were named runners-up on the twelfth season of The U.K.'s Celebrity Big Brother in 2012.