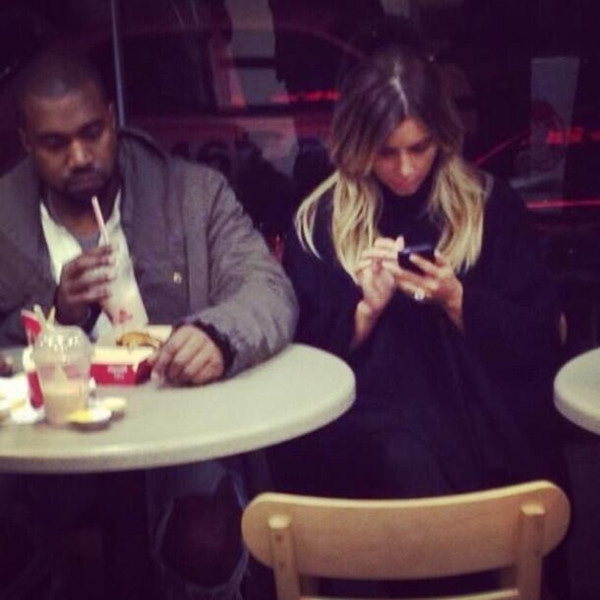 Instagram
Sometimes, celebs just have to satisfy a fast food craving (even if they can afford to buy the establishment's entire menu!).
Kim Kardashian and Kanye West were spotted at Wendy's in Philadelphia, where the lovebirds were seen enjoying a quick bite to eat after West resumed his Yeezus tour on Saturday before performing in Boston the following night.
Wearing an all-black ensemble, North West's mama tapped away on her phone, flashing her massive diamond engagement ring, as 'Ye sipped on a drink while seated beside his ladylove.
Christopher Peterson/Splash News
Prior to the rapper's show in Boston, he kicked off his time in Beantown by speaking at the Harvard Graduate School of Design, where Kim was also on hand to support her man.
But Kimye isn't the only A-list couple who isn't afraid to indulge in a little fast food from time-to-time!
Cara Delevingne may just be McDonald's biggest fan, having been photographed indulging in the mega chain's famous fries on a number of occasions, even while on a break during a recent DKNY photoshoot.
And she even shared a photo of herself shamelessly enjoying some Mickey D's with fellow model Jourdan Dunn prior to rocking the catwalk at London Fashion Week (not fair!).
Justin Bieber is also a fan (and endorser) of the Golden Arches and has been previously seen returning to his luxury hotel, fast food in hand.
And leave it to Rihanna to grab a little late-night snack after a night out on the town, hitting up McDonald's in a racy white crop top.
See? Even A-listers enjoy the occasional Big Mac! Well, except Jennifer Aniston, who told the tale of her stomach-turning experience.