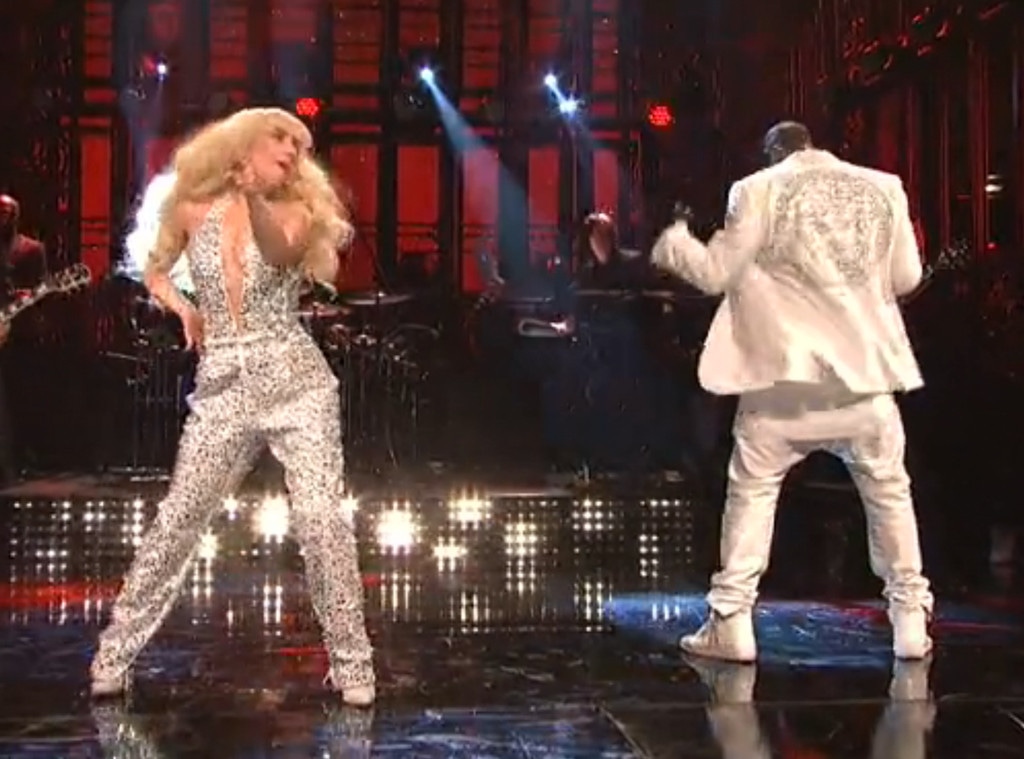 Hulu
Lady Gaga earned raves for her Nov. 16 hosting gig on NBC's Saturday Night Live. Her performance with R. Kelly, however, drew mixed reactions among critics. The musicians teamed up to sing "Do What U Want," the second single off Gaga's just-released album, ARTPOP. Their racy duet—and the provocative choreography that came with it—had many viewers scratching their heads.
"Gaga really brought the LOLZ when she was joined onstage by R. Kelly to perform their song 'Do What U Want, ' which involved the two singers, like, simulating really awkward sex. The dry humping! The pushups! The fumbling ass slapping! This is the strangest sexual encounter R. Kelly's had since, well, you know," The Frisky's Amelia McDonell-Parry wrote, referring to the R&B star's sex tape scandal.
The Daily Mirror's Zoe Shenton was equally amused, writing, "In a ridiculously OTT performance (what did we expect, really?), a sparkling catsuit-clad Lady Gaga and suited R. Kelly got very friendly with each other."
Blogger Necole Bitchie threw even more shade, writing, "Lady Gaga is no stranger to head-turning, jaw-dropping performances but this time around, she reeled in R. Kelly to partake in her stage antics...Maybe this encounter wouldn't have been half as bad if Kelz wasn't trying to get out of the creepy, pervert box he kind of fell in over the years but this was reminiscent of Miley Cyrus and Robin Thicke's MTV VMA performance. At least they are both single, fully-dressed, and Gaga managed to keep her tongue in her mouth."
As MTV News' Kecli Shipley noted, "Neither of them seemed to exhibit any signs of performance anxiety."
Likewise, Idolator's Carl Williott said the musicians displayed "sizzling chemistry" on stage. "At one point, R. Kelly climbed on top of Gaga and most viewers were surely bracing for something uncouth, and well, it didn't come to that. Kells merely did a couple push-ups over Gaga's writhing body."
Entertainment Weekly's Erin Strecker, meanwhile, left it to readers to decide whether the singer's duet was appropriate. "If you're going way too far on purpose, is it really way too far?" she pondered. "Watch R. Kelly join Lady Gaga onstage for 'Do What U Want' and decide."
What did you think of their performance? Sound off in the comments below!
(E! and NBC are both part of the NBCUniversal family.)