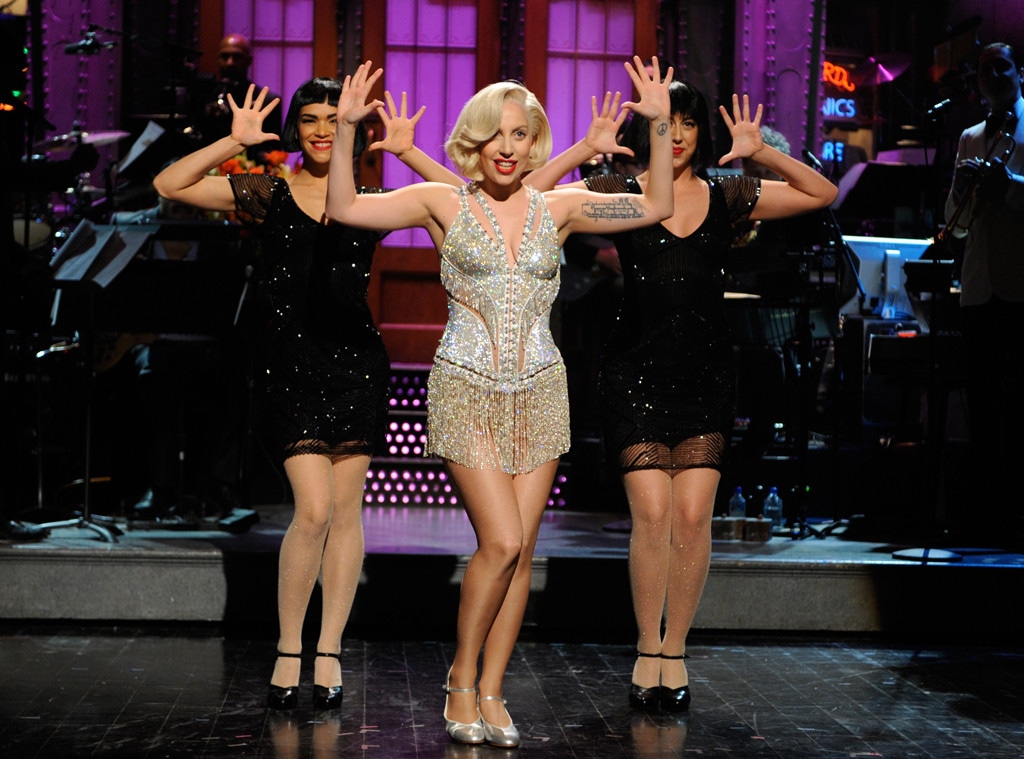 Dana Edelson/NBC
One thing we learned from Lady Gaga's appearance on Saturday Night Live is that she isn't afraid to poke a little fun at herself. Or a lot of fun at herself.
The 27-year-old singer pulled double duty as host and performer during a highly entertaining episode of the sketch comedy program on Nov. 16.
The proud New York native's opening monologue featured a parody of her hit song "Applause," which segued into "New York, New York." Clad in a silver sparkly 1930's-esque ensemble, Mother Monster performed an upbeat jazz number, asking the audience for their adoration and to just simply clap their hands at everything and anything.
"Give it up for New York!" she exclaimed. And of course, the audience indulged her with some applause.
Perhaps the hit of the night was her portrayal of a nerdy Apple store employee on "Waking Up With Kimye," featuring Nasim Pedrad as Kim, Jay Pharoah as Kanye and of course, the entire Kardashian clan playing musical instruments from the sidelines.
The two ladies compared their outfits, at the urging of Pharoah, in a segment called "Kim Wore It Better." Naturally, there was no comparison between the two, since Pedrad looked über stylish wearing a sexy white dress and Gaga was frumpy, sporting a blue T-shirt over a flannel shirt and brown pants.
"Honestly, I don't care about fashion," Gaga quipped, no doubt joking about her own over-the-top unique ensembles. "I think people who try too hard with their outfits are maybe hiding something. Like come on, dress like a person."
Brilliant.
Dana Edelson/NBC/NBCU Photo Bank via Getty Images
Taran Killam gave a spot-on performance of Counting Crows singer Adam Duritz in a sketch about an album called Whaat: The Worst Cover Songs Of All Time, featuring, obviously the worst cover songs of all-time. Kenan Thompson as Rick Ross performing Anna Kendrick's "Cups" from Pitch Perfect was pretty incredible, but when Killam revealed that Lady Gaga had a cover version of Madonna's "Express Yourself," Gaga busted out with her own song "Born This Way."
Anyone remember what Madge thought about Gaga's tune? Of course you do.
Gaga took the stage twice, performing her new single "Do What U Want," in a sizzling performance with R. Kelly. She also sang "Gypsy" and played the piano.
Other sketches featured Gaga doing a spot-on impersonation of Marisa Tomei's infamous character in My Cousin Vinny, a child actor, an overly excited parent performing her child's routine from the audience and a vixen seducing three Blockbuster employees.
We also got a glimpse of Gaga many years from now, living in her ornately decorated New York City apartment and wearing a bright jacket, smudgy lipstick and round glasses. She called the maintenance man (Thompson) to fix a lamp and tried to convince him that she was indeed a big pop star many years ago. Gaga plays "Poker Face," "Bad Romance" and "Applause" on her piano, which was adorned with multiple Grammys, but nothing. Gaga even puts on a slice of roast beef on her chest, hoping he will remember her infamous meat dress to no avail. Thompson finally revealed he recognized her tune "Born This Way" as a "jingle for laser toilet cleaners."
Classic.
What did you think of Lady Gaga on Saturday Night Live? Sound off in the comments!
(Saturday Night Live and E! are a part of the NBCUniversal family.)