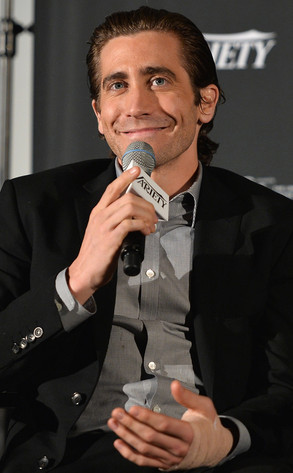 Alberto E. Rodriguez/Getty Images
It appears Jake Gyllenhaal is doing just fine after injuring his left hand.
The 32-year-old actor was all smiles, with his stitched up and bandaged hand, at the screening of his film Prisoners on Friday, Nov. 15 in Hollywood.
The Oscar nominee looked handsome in a dark gray dress shirt and suit jacket. He also posed for photographs with his costar Maria Bello.
Gyllenhaal accidentally injured himself while shooting the upcoming thriller Nightcrawler, E! News confirmed on Thursday, Nov. 14.
"During the shooting of the scene his character (purposefully) banged his hand into the mirror," the Source Code star's rep explains. "Unfortunately the mirror broke and Jake's hand was badly cut up. He got numerous stitches at the ER and was released."
Gyllenhaal returned back to the set the day after his injury.