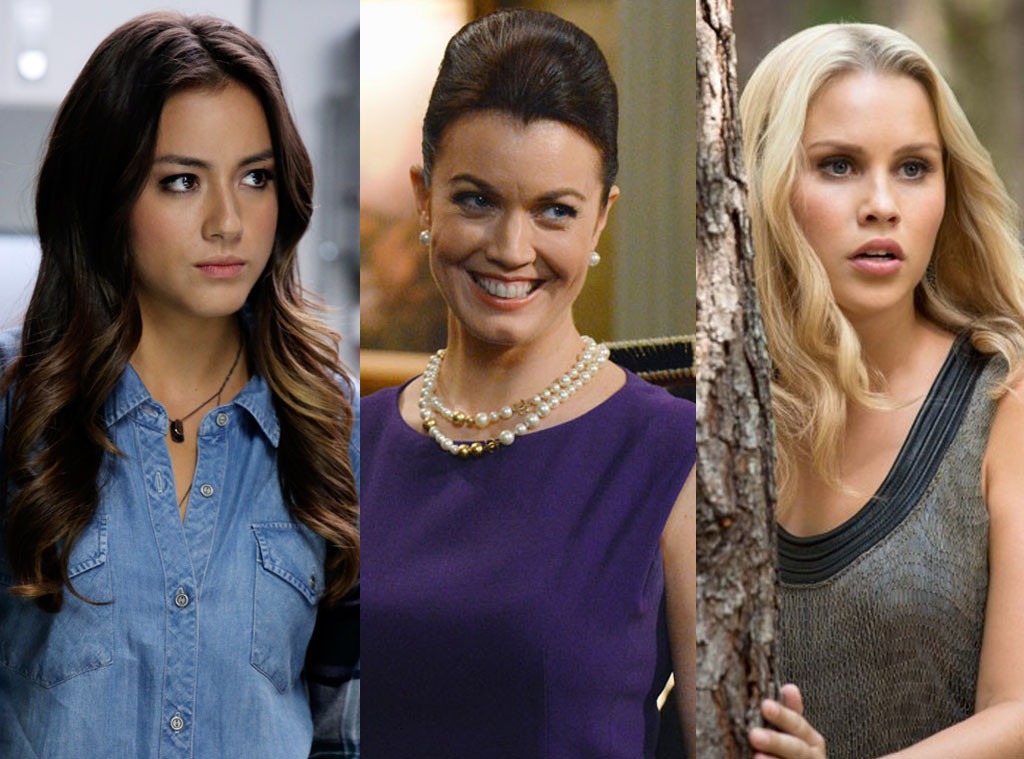 CW, ABC
Vampires, ghosts, and superheroes, the gang's all here!
In today's episode of Spoiler Chat we've got major scoop on what's coming up in the love department on The Originals. Details on the next major Mellie v. Olivia showdown on Scandal, a blast from the past on Ravenswood, and a Thor-themed reveal from Marvel's Agent's of S.H.I.E.L.D.
Plus, we've got scoop on The Mindy Project, Arrow, Sleepy Hollow and much more!
Isaac: I'll take anything you've got on The Mindy Project!
Prepare for a major, major secret about Danny to come out in the Fox gem's 15th episode. No, it doesn't have to do with Mindy. Yes, it has to do with his complicated relationship with his father. Ugh, Castellano family feels, we're not ready for you!
Jenna: Arrow is ridiculously good this season. What's coming up for my favorite character Roy?
Answers and revelations! Colton Haynes previews, "He's getting really busy still trying to find Arrow, but at the same time, he is slowly starting to find out who the Arrow is and that it could possibly be Oliver." Hmm…combine that tease with Haynes' super-secret fitting coming up and it seems like Team Arrow may have another full-fledged member on its hands soon.
Barbara: Will we see more scenes between Katrina and Abbie on Sleepy Hollow?
Katia Winter tells us she hasn't shared another scene with Nicole Beharie since their encounter in episode six, "but I'm pretty sure we're going to meet one day," she says with a laugh. And for now, Winter assures Katrina harbors no ill will towards the Leftenant. "There's not much jealousy there yet. I think she's more grateful for her taking care of Ichabod and helping him."
Cameron: Please give me anything you can on Beauty and the Beast! That show is perfection.
Are you loving this season? Great! It's only going to get better and better from here. By episode 11 prepare to meet two of the biggest bads in BaTB history. Vlad and Omar are two of Eastern Europe's most dangerous men and they will go to great lengths to get what they want—Even if that means harming some of New York's finest police officers…. 
Francesca: I'm so conflicted about The Originals. I love Rebekah with Marcel, but she's Klaus' sister! Who will she choose to side with?
She doesn't even know at this point, Claire Holt teases of the Original vamp. "Rebekah wants to be loyal to her family, but struggles. She loves Marcel, but struggles with that relationship," she previews. "I really think it's a confusing time for her and she isn't sure what she wants and she's easily swayed by people, which we will see." Also making matters more difficult? Klaus and Marcel will finally have it out very, very soon.
Tamara: I love Scandal scenes involving Mellie and Olivia! Will we get to see any more scenes like that any time soon?
According to our chat with Bellamy Young, that doesn't seem to be out of the question, "I don't know that she's a person to draw lines in the sand like that, because she's playing the long game, so any sort of short-term casualties are like pawns, right, they can be sacrificed within her tribe. She sacrifices her tribe constantly to get to her ultimate goal of this identity that she has of being in the White House, so you know, I wouldn't put anything past her." As a little bonus – Young says that there's some stuff involving Quinn in episodes 3x09 and 3x10 that she "doesn't even know how to prepare [us] for."
Layla: Ravenswood is the only thing getting me through the week! Please tell me you have spoilers?
Of course we do! This is Spoiler Chat, remember? This week it's the mid-season finale of Ravenswood, and even though we're so sad to say goodbye to our ultra-creepy town, we can't wait to learn more about Caleb's past. We recently chatted with star Tyler Blackburn and he promises that this flashback-filled episode is packed with vital information. "Original Caleb and Miranda were in love, very deep in love," he revealed. "And it's an interesting point that they look exactly like modern Caleb and Miranda, whereas the other members of the curse, their relatives don't look anything like them. So it sort of raises the question of, is it them? Are they just the same people but reincarnated?" Dun dun dunnnn!
Shannon: I'm super excited that Agents of S.H.I.E.L.D. is going to deal with what happened in Thor 2! What can you tell me about that episode?
We're glad you asked, because we just got the scoop from Chloe Bennet herself: "It is the aftermath of Thor, and we kind of go to clean up the mess that these great-looking gods so easily came down to make, and we find an Asgardian relic, and that relic, when you touch it, it makes you have this internal and external rage, and it emotionally and physically kind of, for lack of a better word, effs you up. … It's a big episode for Ward. I can't wait for people to learn more about his backstory. And ladies can expect to see Brett Donovan with no shirt on, so if you didn't have a reason to watch it, you now do."