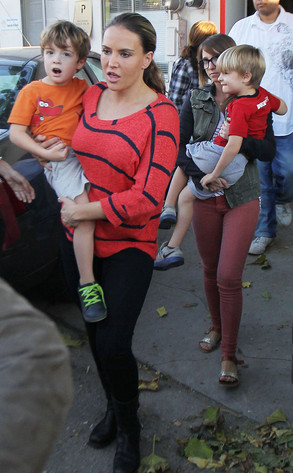 CPR/Dmac/FAMEFLYNET PICTURES
It sounds like Charlie Sheen and Brooke Mueller's twin sons Bob and Max are doing well one week after a jury granted temporary custody of the 4-year-old boys to their mom's brother Scott Mueller.
"The boys are doing great," a source close to the situation exclusively tells E! News. "They have never been happier. When the teacher told them last Friday that their uncle was going to be picking them up from school, they were really, really excited. They put their arms in the air. They were full of joy about the decision. They love their uncle."
"Brooke's brother is a role model for the boys," the insider continues. "He has been a stable influence in their life all the way through. He's been there for them since they were born. He has spent weekends with them. They trust him and adore him and he was the perfect person to step in."