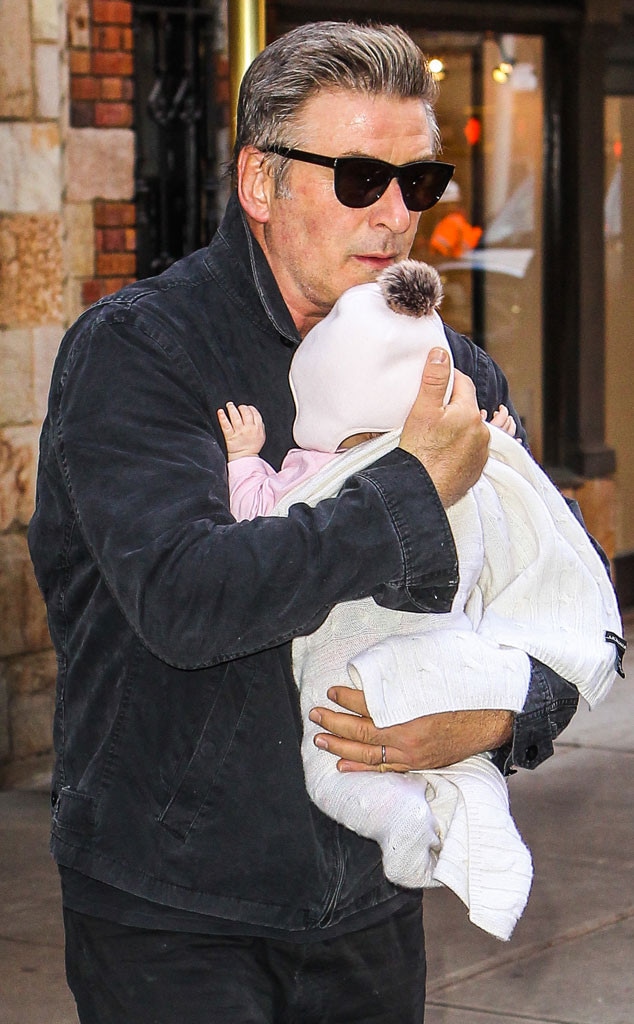 AKM-GSI
For better or worse, some things just never change.
Alec Baldwin is still tweeting and he's still losing his temper on the streets of New York.
Hours after a woman was found guilty of stalking and harassing him, the actor and MSNBC talk show host went off on a paparazzo who tried to take pics of his family as they were leaving their Manhattan apartment building (another thing that doesn't change). Just a moment before, the vigilant Emmy winner had been adorably cradling baby daughter Carmen on their way outside, the expression on his face suggesting that he was none too happy for the snap-happy escort.
"Get away from my wife and the baby with the camera! What language do you want that in?!" Baldwin warned the guy, walking around the back of their chauffeured ride and toward the pap, as seen in video posted by TMZ.
"Alec, come on, let's go," you can hear presumably Hilaria Baldwin encouraging her husband to drop it as he continued to pursue the shutterbug, who apparently beat a hasty retreat, down the sidewalk.
Baldwin subsequently turned right around and headed back to the car, but then he turned on the guy shooting the video, shouting, "Get away from my kid with the camera! You know what's going to happen to you, don't you? Come on!"
As the videographer backed up, Baldwin turned and again walked toward the car. He can then be heard muttering "f--king [indistinguishable]" and then, according to TMZ's translation, "c--ksucking f-g" before he finally climbs into the backseat and shuts the door.
But Baldwin insists that TMZ got it wrong.
"If @TMZ asserts that I used an anti-gay epithet, I will sue them," he tweeted Thursday afternoon. "Acoustic analysis proves the word is fathead. Fathead. Anti-gay slurs are wrong. They not only offend, but threaten hard fought tolerance of LBGT rights. But right wing liarswant those words to come out of liberals mouths. They need them to. One unintended consequence of this type of thing is that I get to block so much of that right wing trash that vents here. 
"I know that @TMZ would go to any lengths to bury me. But, try again," Baldwin continued. "I'm grateful to all of the ppl I meet + hear from who recognize that I would never say something to offend my friends in the gay community."
Baldwin's long-time issues with the paparazzi are well-documented, and his issues with the media in general plagued him over the summer as well.
The 30 Rock star was compelled to publicly apologize to GLAAD in June after he referred to Daily Mail reporter George Stark on Twitter as a "toxic little queen" and a "little bitch" after he wrote a story (that turned to be erroneous) about Hilaria supposedly tweeting during James Gandolfini's funeral.
"My anger was directed at Mr. Stark for blatantly lying and disseminating libelous information about my wife and her conduct at our friend's funeral service. As someone who fights against homophobia, I apologize," Baldwin said.
In a subsequent interview with Gothamist, he added: "The idea of me calling this guy a 'queen' and that being something that people thought is homophobic...a queen to me has a different meaning...I'm not interested in offending anyone. If homosexuality was an issue for me, I would have moved out of New York years ago. I find that laughable."
Baldwin also said at the time that he was done tweeting, but... See above.