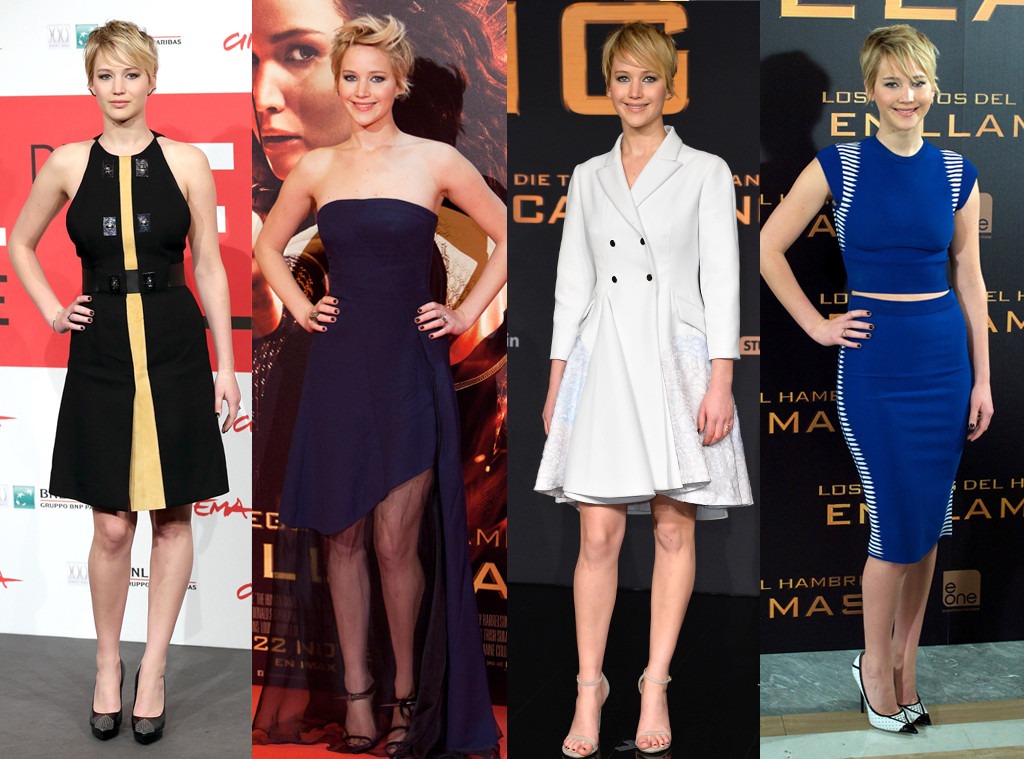 Getty Images; AP Images
Jennifer Lawrence is easily one of the most fashionable starlets in Hollywood these days.
Just look at her worldwide publicity tour for The Hunger Games: Catching Fire. If we're not talking about one of her many Christian Dior dresses, we're gushing over her new pixie cut.
Even so, J.Law insists she has nothing to do with her chic factor. "I really would not call myself a fashion icon," the Oscar winner told me while promoting Catching Fire in Beverly Hills. "I would call myself somebody who gets dressed by professionals. [It's like], 'Dance, monkey, dance' right on the red carpet.' I would call me more of a monkey." 
Jason Merritt/Getty Images
 Well, this so-called monkey has graced the covers of Vogue, InStyle, Elle and W.
Her Catching Fire costars recently gushed to E! News about her new short locks.
"I think it looks fantastic," said Sam Claflin, who plays Finnick Odair in the second Hunger Games movie (in theaters on Nov. 22). "It really suits her."
Jena Malone, who plays Johana Mason added, "She's a beautiful woman in any hairstyle."
Watch:
Jennifer Lawrence Calls Herself a Monkey