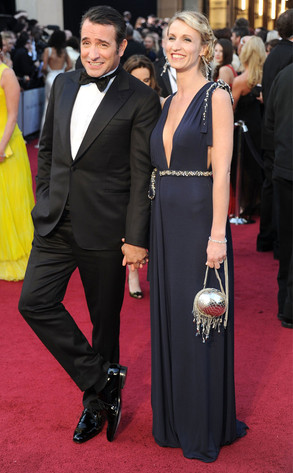 Michael Buckner/Getty Images
Jean Dujardin and Alexandra Lamy have called it quits after four years of marriage. The Wolf of Wall Street actor made the breakup announcement on Tuesday, Nov. 12, at the Quai Des Orfevres 2014 Literary Prize event in Paris, France.
The French film star—perhaps best known for his Oscar-winning role in 2011's The Artist—married the actress and producer on July 25, 2009. "It has been eight months that tabloids have been trying to make me out as depressed, an alcoholic, a womanizer," Dujardin reportedly told journalists. "This is no more, or less, than the story of a couple who are separating, like any other couple."
Dujardin, 41, and Lamy, 42, have no children together. The Monuments Men actor has two sons, Simon and Jules, with ex-wife Gaelle Dujardin. Lamy and her ex-husband Thomas Jouannet are parents to daughter Chloé.