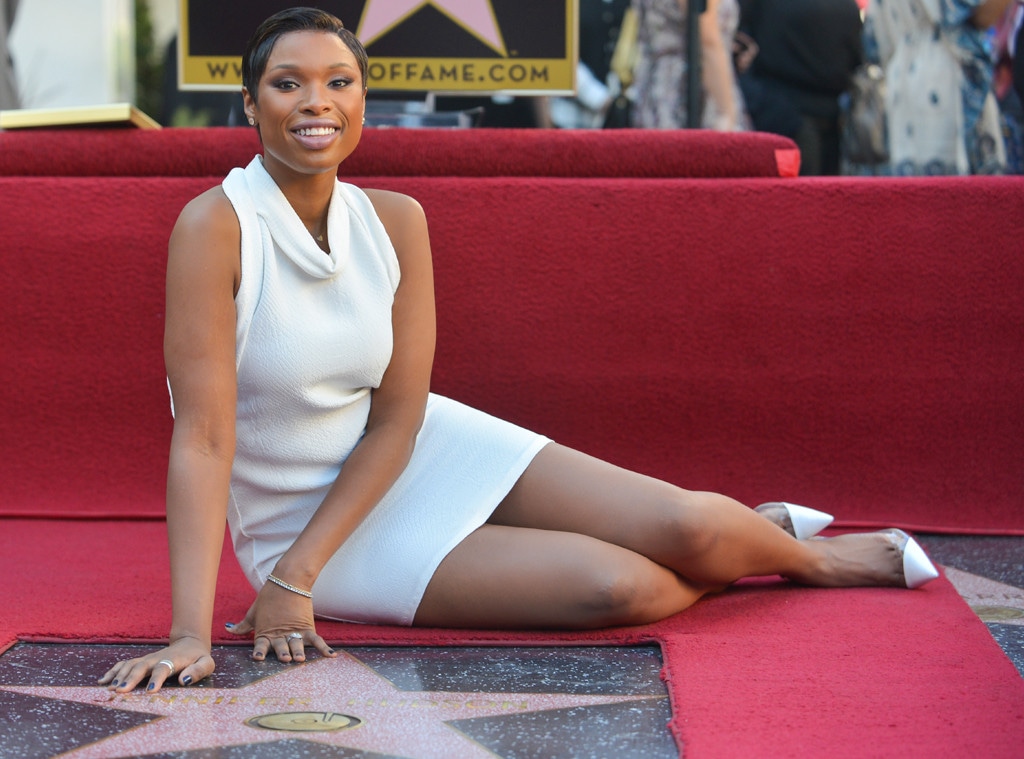 Richard Shotwell/Invision/AP
Jennifer Hudson sure has come a long way since her early days on American Idol!
The Oscar winner was honored with the 2,512th star on the Hollywood Walk of Fame on Wednesday, Nov. 13 in Los Angeles, Calif., where the 32-year-old singer-actress smiled as she posed for pics, looking stunning in a fitted white dress.
The short-haired beauty—who recently chopped off her locks in favor of a trendy new pixie 'do—paired her sexy look with a pair of white pointed-toe pumps, simple silver jewelry and a dark manicure for fall, flaunting her slim and trim frame in her white-hot ensemble while taking full advantage of the sunny day in L.A.
"Just got my star on the #WalkOfFame!! Such an honor," the Dreamgirls star captioned an Instagram shot of herself posing with her star and honorary plaque.
Music industry executive Clive Davis spoke at the ceremony, gushing over J.Hud's successful rise to the top in Hollywood over the past 10 years, while comparing her to two legendary singers.
"I didn't sign her to a recording contract at the very beginning," he recalled. "But when I saw her, I saw her screen test for Dreamgirls, I knew that she was truly a unique, original artist whose career would be nothing short of spectacular so I did sign her, then…I was stunned by her acting range, she was the real deal…and that voice. I had been privileged over the years to work with two of the greatest voices of all time: Aretha Franklin and Whitney Houston. I never thought I'd hear another voice to compare and yet staring me in the face was a new voice that did compare. It literally sent shivers up my spine."
Hudson later took the stage, fighting back tears as she thanked God for her success as well as her fans for their support.
"I knew I would get emotional and I'm sure my mom is in heaven like 'Jenny stop crying' but now's the time to cry mama, it is," she said with a smile, looking up to the sky. "This is an amazing honor as we all know and I did not see this coming. I'm so honored to be here with so many that I love and I feel as though we're all a family."
Congrats, J.Hud!