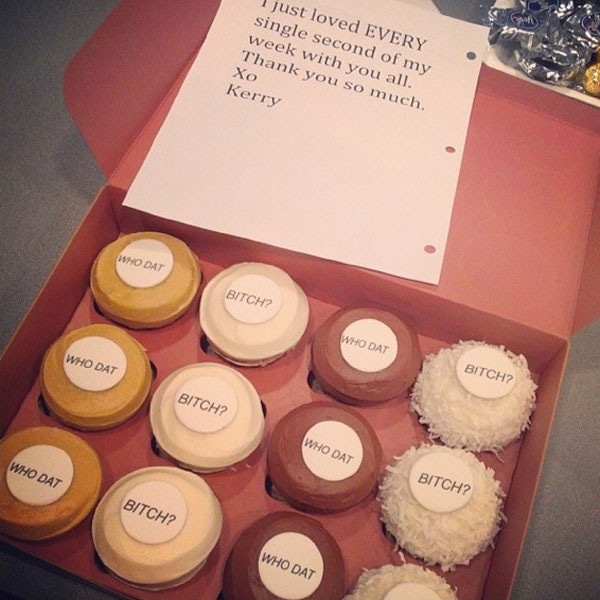 nbcsnl/Instagram
Here's one more reason to love Kerry Washington.
After hosting Saturday Night Live two weekends ago, the 36-year-old Scandal star sent a special (and hilarious) "thank you" gift to the SNL castmates as a very kind gesture.
"Just got the best batch of cupcakes for read-thru from @kerrywashington!! #SNL #WhoDatBitch?" the official SNL show Twitter account shared earlier today with a pic of Washington's cupcakes. The photo shows a box of cupcakes, half of them read "Who dat?" and the other half read "Bitch?" a nod to her hilarious music video skit mocking Ylvis' "The Fox."
Also included is a note from Washington, which reads, "I just loved EVERY single second of my week with you all. Thank you so much. Xo Kerry."
She's one classy (and funny) lady!
Washington responded to SNL's tweet about her gift, writing, "I MAY OR MAY NOT HAVE SENT @sprinkles to #SNL '@nbcsnl: Just got best batch of cupcakes 4 read-thru! #WhoDatBitch?'" with the same photo.
Hopefully, Washington will talk about her SNL cupcakes when she stops by Chelsea Lately tomorrow. She also tweeted today, "WATCH #KerryOn @chelsealately TOMORROW NIGHT 11/10c on @eonline! http://eonli.ne/1aTzkIY -kw's krew."