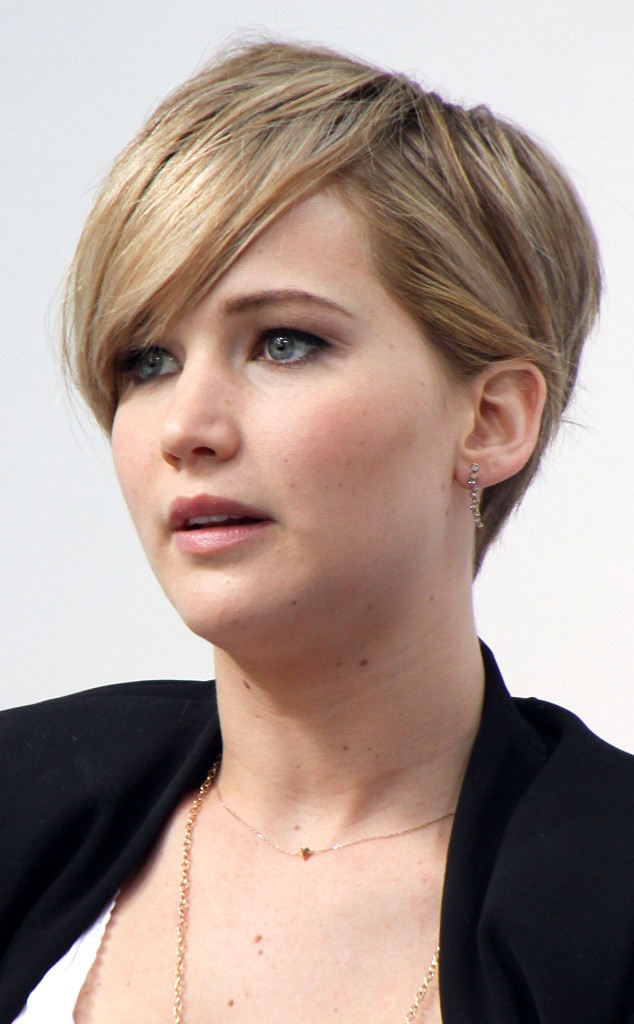 L Prima/FAMEFLYNET PICTURES
Long hair or short, Jennifer Lawrence never looks bad.
And her new chopped 'do is getting rave reviews from her The Hunger Games: Catching Fire costars.
"I think it looks fantastic," says Sam Claflin, who plays Finnick Odair in the second Hunger Games movie (in theaters on Nov. 22). "It really suits her."
Jena Malone added, "She's a beautiful woman in any hairstyle."
Lawrence admits she's a bit stunned by all the attention her pixie cut has received, especially when major hard news media outlets cover it. "That's just sad," she said.
J.Law cut her locks after her hair became damaged from over processing.
"My hair couldn't get any uglier," she quipped during a Yahoo "Fireside Chat" on Nov. 7.
"I don't know, I cut it earlier, and it was just kind of like [shoulder-length] and it grew to that awkward, gross length," she said. "I just kept putting it back in a bun, and I said, 'Well I don't want to do this,' so I just cut it off."
Catching Fire director Francis Lawrence is taking some of the blame himself. "She used to give me a hard time about the hair because I was always saying, 'Dye your hair, dye your hair. We need your hair dyed, no wigs!'" he told E! News. "And then, of course, dying her hair fried her hair, so she had to cut her hair.
"At first I didn't realize it was messed up," he continued. "I thought she was cutting it just to wear wigs to make me mad, but it wasn't the case. We actually fried her hair, which is sad. I feel bad."
But no reason to feel too bad. "I love it," said Elizabeth Banks, who plays Effie. "She looks adorable like always."
Amen!
ODD ANDERSEN/AFP/Getty Images
Watch:
Sam Claflin Jokes About J.Law's Hair
Watch:
J.Law's Hair Wins "The Hunger Games"