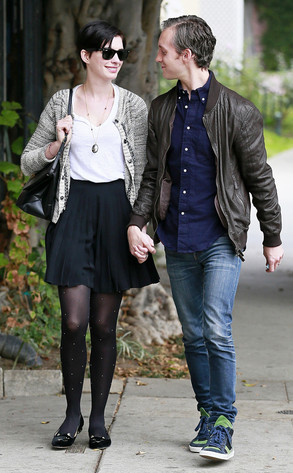 Bruja/Juan Sharma, © PacificCoastNews.com
It sure looks like Anne Hathaway had a wonderful birthday.
The Oscar winner, who turned 31 on Tuesday, Nov. 12, was spotted with husband Adam Shulman as they made their way to a fancy lunch celebration in Los Angeles. The lovebirds held hands as they walked down the street, gazing at each other with a smile.
The Les Misérables star looked chic for her big day, wearing a white T-shirt with a cardigan, a black short skirt, black patterned tights and ballet flats. She kept her pixie cut au naturel and completed the outfit with some shades and a black handbag. Shulman was casual, sporting a dark blue dress shirt, skinny jeans and a leather jacket.