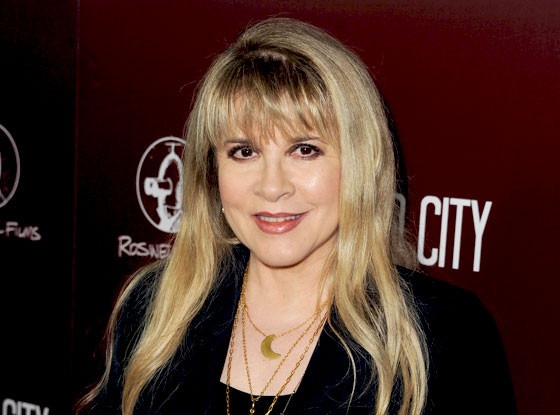 Kevin Winter/Getty Images
File this under bitchin' news!
Stevie Nicks is set to make a guest appearance on FX's hit series American Horror Story: Coven later this season, creator Ryan Murphy revealed on Tuesday. "Guess who's visiting the Coven? The legendary Stevie Nicks!" he tweeted to his followers. (Let's all do a Stevie Nicks shawl twirl over this epic casting news, shall we?!)
While she's yet to pop up in New Orleans, Nicks has had quite the presence on the witchy series thanks to Lily Rabe's kooky hippie character Misty Day, who idolizes the legendary singer-songwriter. And a source who works on the show exclusively spills to us that Misty's dreams come true when Nicks "comes to meet her biggest fan. And maybe sing with her." We. Die. Expect to see Nicks pop up in the Big Easy in episode ten.
Murphy recently revealed Nicks was a huge inspiration for the character of Misty.
"I love her character, she is obsessed with Stevie Nicks. The season really is an allegory and a metaphor for any minority group in the country where you feel alone, so she's a girl that has never known any other witches and all she's ever known is Stevie Nicks," he explained. "So I reached out to Stevie Nicks and asked her if we could use her music, and she thought about it for a while and then she said, "Oh OK, since it's you, I'll do it." Lily has an amazing Stevie Nicks shawl twirl scene in episode three. It's really fun and great and we use I think eight Stevie Nicks songs this year, so that's our musical stuff that we do."
American Horror Story was recently renewed for a fourth season, surprising no one given Coven's monster ratings: It's averaging 7.7 million viewers per episode, a franchise-best.
American Horror Story: Coven airs Wednesday at 10 p.m. on FX.