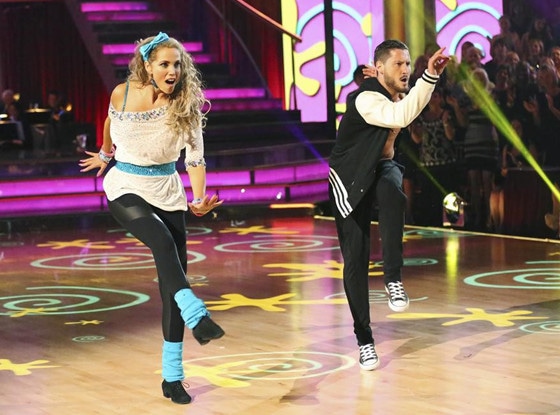 ABC/Adam Taylor
Wow. We did not see that one coming!
It's week nine of Dancing With the Stars and this is usually when the last few weeds are plucked out of the garden of out blooming, finale-bound dancers. However the fans, contestants, and judges were absolutely shocked to discover that despite earning a perfect ten in tonight's show, Elizabeth Berkley was eliminated from the competition.
The Saved By the Bell star was gracious and kind when bidding adieu to the DWTS ballroom saying, "Honestly I'm beyond grateful for this, it was one of the biggest gifts and blessings in my life and I want to thank everyone especially Val [Chmerkovskiy]." As always, E! News was backstage after tonight's performances to chat with our remaining contestants and one dancing professional is extremely upset with this season's "unpredictable" eliminations.
Dancing extraordinaire Derek Hough vents, "[Elizabeth] did an amazing job tonight, and was praised for being just such an amazing dancer but I think this season has been the most shocking eliminations, there have been several." Amber Riley's professional partner says he blames the new voting system for season 17's inconsistent eliminations. "I think it's the new system that the votes from last week count for this week and it makes it more unpredictable and it's crazy."
Amber echoes her partner's thoughts saying that she is going to miss "so many things" about Elizabeth being in the competition. "She's just such a great person to talk to like if you get frustrated she always has something positive to say is a great hugger. She's a light in rehearsal and I really really really love her." Derek adds, "She is one of the most genuine people I have ever met. When you see her she just give you love and energy and like she said is just a pure light so I'm sad to see her go." We are too!
OK, let's be honest: Everyone thought that Bill Engvall would be the headed home tonight. However, the comedian was quick to tell us that he and his dancing partner Emma Slater definitely earned their spot in next week's semi-finals. "I will tell you this, we deserve to be here. We work as hard as everybody else and I'm going to work my butt off this next week to get us into the finals." "He adds, "We've got low scores but I think the judges are learning about the rednecks." Wow, those sound like fighting words Bill! Good Luck.