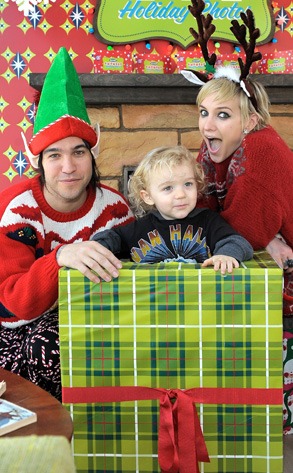 Charley Gallay/WireImage.com
It's been almost two years since Pete Wentz and Ashlee Simpson officially divorced, but according to the rocker he still has a wonderful relationship with his ex-wife.
"Yes, we are great friends," the Fall Out Boy frontman told E! News at the 2013 MTV EMA U.S. telecast event in NYC, adding that the pair always put the focus on their 5-year-old son Bronx.
"See I think the whole idea is you don't parent for the media, you parent for the kid," he explained. "And I think the most important thing is putting your kid first ,you know. None of it is ever for show and a lot of it goes on behind closed doors, but yeah, yeah we respect each other as parents and that's the most important thing."
Sounds like the divorced duo could teach some parents a thing or two, but Wentz insists he doesn't have all the answers.
"I don't know if I should be the one giving advice to anybody about these things, because I feel like I am learning on such an everyday basis," he said. "But the thing that I realize more than anything is that you have to take in moments: you can't just go through your life and think about what's the next thing. Just take a snapshot and take in every moment what you're doing with your kid and family and stuff."
Wentz' kind remarks about Simpson are hardly surprising considering Pete, girlfriend Meagan Camper and Ashlee (who is currently dating 25-year-old Evan Ross) were all happily photographed celebrating Bronx's birthday together last year, and the musician has previously gushed that the blond beauty is an "awesome mom" in the past. 
As for Wentz' holiday plans with his son?
"Well my sister is about to give birth so I think we are going to go and visit Chicago and hang out and do that kind of thing because its nice to go somewhere where it seasonally changes a little bit cause we are in L.A. so often," he shared, adding that he's definitely going to take Bronx to see Santa, although the little guy hasn't quite started crafting his Christmas list.
"I think that it's interesting because he is smart enough 'cause whatever is on commercials is not really up his alley," the proud papa said. "He is excited by whatever box the toy he is opening is in, and he is excited to play with it. He sees me unlock the house all the time so he is like, 'I want keys,' and I am like to him, 'Keys to what?' and he is like 'I don't know.'"
Too cute.