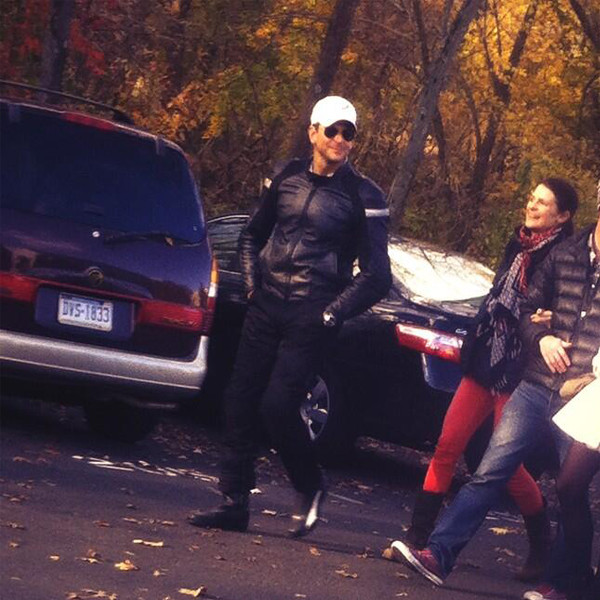 Twitter
Bradley Cooper may be a huge movie star, but he's not too famous to return to his high school for his 20-year class reunion!
The 38-year-old American Hustle star recently returned to his alma mater Germantown Academy in Fort Washington, Pa. to meet up with his old class of 1993 pals from high school, E! News has learned exclusively.
"It was a small, private event," a source tells E! News of the reunion party, which was held at MaGerk's Pub & Grill this past Friday. "There were about 30 to 45 people."
According to the source, Cooper, who was wearing an Eagles hat, a tan jacket, jeans, and Timberland boots for the event, arrived after 7 p.m. and was seen with "a couple of guys." The Oscar nominee "didn't have any security," says the source. "He was very casual," they added. "A super nice guy and seemed happy to be there."
"He took some photos with classmates," the source continued, adding that Cooper's Germantown friends "were just treating him as one of their classmates."
On Saturday, Cooper went to Germantown's football game. "He came back with Brian Klugman, who is an actor on the show Bones," a source tells us. "He is also GA class of '93. They stuck together for most of the reunion!" "He hung out on the fence," the source continued. ""He took some photos. The kids recognized him. He was very friendly."
Cooper, who also took a tour of the campus and visited some former teachers, was snapped walking around campus by some current Germantown students. One fan shared a pic of him walking around the parking lot with the caption, "Bradley cooper at the academy today. Nbd,"
Another shared, "Saw bcoop93 yesterday at the GA football game. #GAPC #BradleyCooper," with a side shot of him at the football game.
Lastly, a third alumnus tweeted a priceless photo of a teenage Cooper in the school's yearbook, writing, "#BradleyCooper's yearbook photo from the @GA1759 Germantown Academy yearbook of which I was Editor in 1990. #Oscars."
—Reporting by Lindsey Caldwell