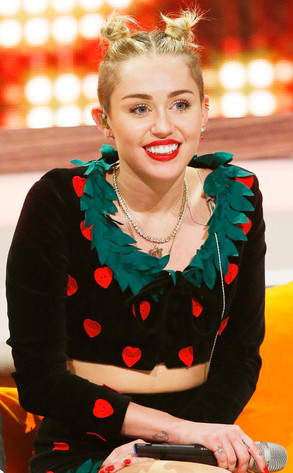 Franziska Krug/Getty Images
Miley Cyrus' highly anticipated MTV EMAs performance is almost here.
But before the pop sensation takes the stage later this evening in Amsterdam, she stopped by the German TV show Wetten ... Dass? on Saturday, Nov. 9 in Hamburg.
The songstress' ensemble resembled a strawberry, a black patterned midriff baring top and matching miniskirt with little red hearts shaped like the fruit. The outfit also featured green fringe on the collar and hem, resembling leaves. She accompanied the look with bright lipstick, several necklaces and bracelets and her hair styled in two little topknots.
The 20-year-old performed her hit "Wrecking Ball," and also revealed that her godmother, Dolly Parton, is her "role model."
Parton came to her goddaughter's defense recently, telling the London's Standard "I know that she has thought this all through. We'll let her go and do her own thing," the living legend said in an interview that was published on Friday, Nov. 1.