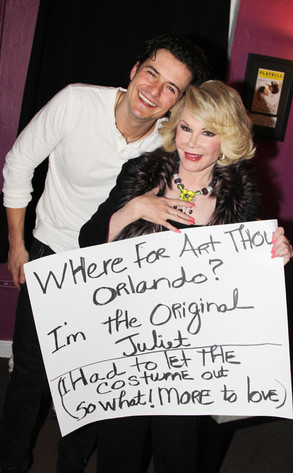 Bruce Glikas/FilmMagic
Joan Rivers finally got to give Orlando Bloom a warm welcome to the neighborhood, while posing with an adorable handwritten sign, of course.
The fun duo spent some quality time together backstage at the 36-year-old actor's Romeo and Juliet Broadway performance on Saturday, Nov. 9 in New York City.
The Fashion Police star is holding up a sign that reads, "Where for art thou Orlando? I'm the original Juliet. I had to let the costume out, so what! More to love."
The two are grinning from ear to ear, and if we're judging by this adorable pic, they sure enjoyed each other's company.
The endearing exchange between the pair began when the 80-year-old comedian held a cute sign that read "Welcome Orlando to the Hood!" while holding a chocolate cake, on Tuesday, Oct. 29.