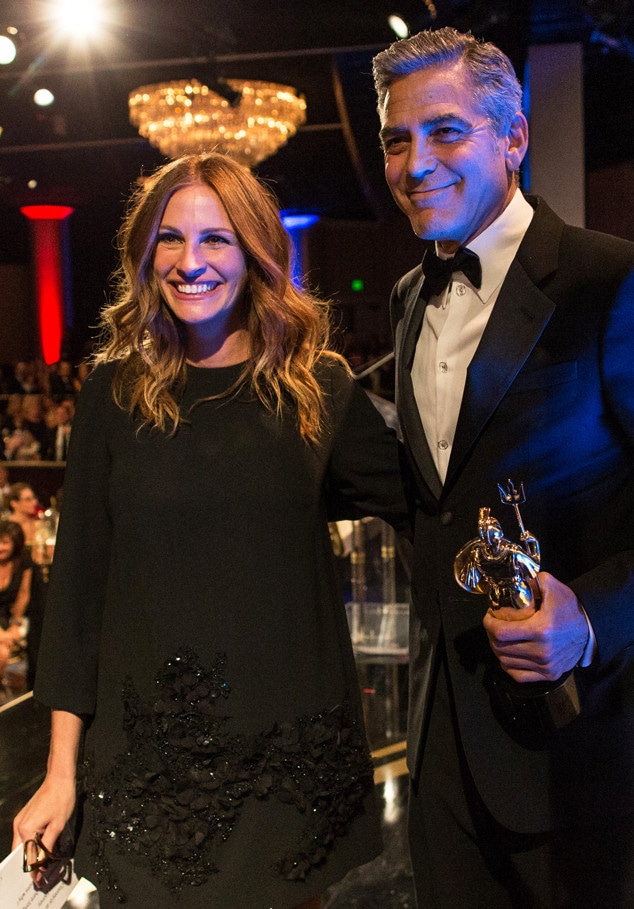 Christopher Polk/BAFTA LA/Getty Images for BAFTA LA
George Clooney may have been the big honoree at tonight's BAFTA Los Angeles Jaguar Britannia Awards in Beverly Hills, but that didn't stop his A-list celeb friend Julia Roberts from cracking some jokes about the Oscar winner.
"I'm normally in my second REM cycle by now so let's get this done," Roberts joked on stage while presenting Clooney with the Stanley Kubrick Britannia Award for Excellence in Film. "George Clooney, or as my daughter calls his, 'George Looney.' So, so honored to be here tonight. And there are two obvious reasons why I was chosen to do this."
"One, Brad Pitt was out of town," she went on. "Two, Matt Damon, he's in town but he was unavailable. I consider George a friend. We have worked together in many capacities. We have acted together a few times. He's been my producer and my director, all of which he is immeasurably gifted at. He's handsome, he's talented, he is an exemplary humanitarian and a gifted prankster."
Clooney was quick to return the compliments. "It has been such a pleasure to watch the woman you have become," he gushed. "Its' very hard for me to be just straight nice because she'll get me later. But just an amazing mother, an amazing wife and a great, great friend. It's really an honor to have her here."
Before the show, Clooney (sans rumored gals Monika Jakisic or Amal Alamuddin) and Roberts chatted it up during dinner. The former Ocean's Twelve costars were smiling and laughing while catching up.
Other stars who were honored during the bash included Kathryn Bigelow (John Schlesinger Britannia Award for Excellence in Directing), Sacha Baron Cohen (Charlie Chaplin Britannia Award for Excellence in Comedy), Benedict Cumberbatch (Britannia Award for British Artist of the Year), Idris Elba (Britannia Humanitarian Award) and Sir Ben Kingsley (Albert R. Broccoli Britannia Award for Worldwide Contribution to Entertainment).
Other celeb guests and presenters included Isla Fisher, Sigourney Weaver, Sean Penn, Lupita N'yongo, Salma Hayek, Dominic Cooper, Kelly Rowland, Alice Eve, Chiwetel Ejiofor and Judd Apatow.
The BAFTA Britannia Awards will be broadcast on BBC America on Nov. 10 at 9 p.m.