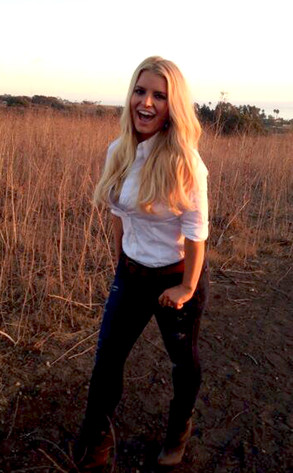 Twitter
Hot mama!
Jessica Simpson flaunted her svelte post-baby body in a photo she shared on Twitter, on Friday, Nov. 8.
The blond bombshell looks radiant and is positively glowing, grinning widely and sporting a formfitting white dress shirt, skinny jeans, brown boots and a matching belt. Her long locks are down and she is standing in a field.
"Couldn't stop smiling on set for my new @weightwatchers campaign today! #happy," the 33-year-old captioned the pic.
It was recently announced that the fashion mogul was making a return to Weight Watchers, following the birth of her second child, Ace.
"We were thrilled to welcome Jessica back on the Weight Watchers program in August," Weight Watchers said in a statement in September. "With a toddler on the run and an infant to look after, we know she needs a plan that's simple and fits into her life along with the support that's so important to moms with young children."