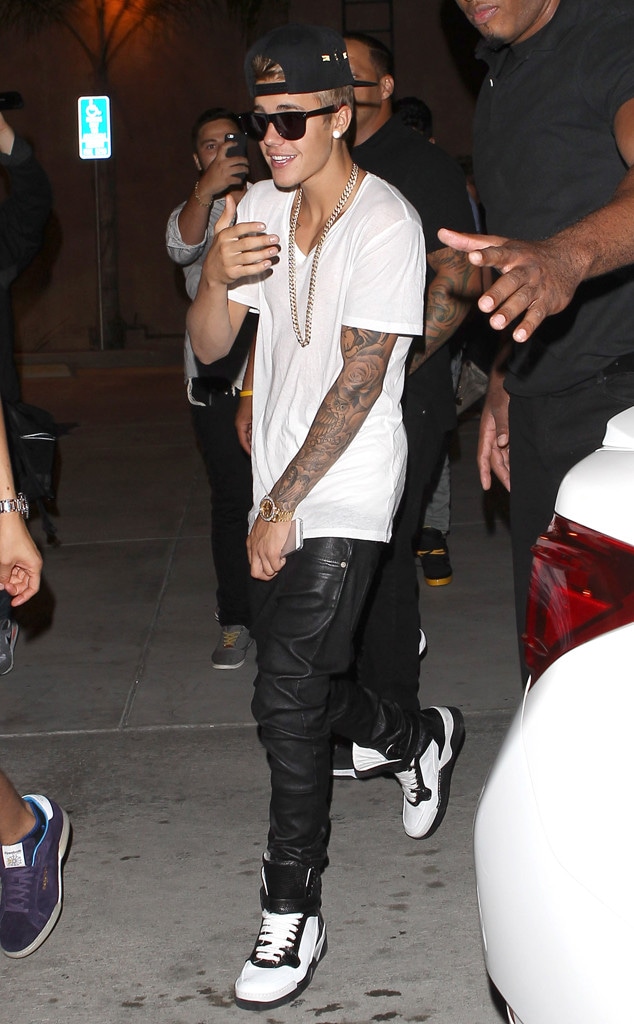 AKM-GSI
Nothing like a casual family outing to smooth over a little controversy!
E! News has learned that Justin Bieber and his family enjoyed a low-key sushi dinner on Thursday, Nov. 7 in Buenos Aires, Argentina, where the 19-year-old pop star is currently staying for his Believe tour.
The "Boyfriend" crooner, his mother, Pattie Mallette, and a few others dined at Sushi Club in the upscale neighborhood of Recoleta, where there was no headline-making behavior from the party.
"He was with his family having a nice dinner," Sushi Club's assistant manager, Maximo Lanusse, tells E! News, adding that Justin came in with about 7 people. "They had a variety of sushi. They were having a good time and they were relaxed. They had a table in the back and it was busy but they enjoyed their dinner and seemed happy and having a good time."
The Biebs and his family even enjoyed their meal so much that they returned to the restaurant for lunch the next day.
"They came in around 1:30 p.m. It was his mom, two little kids, and a younger guy in his 30s and a lady that didn't seem to be family—she was working and organizing things," Lanusse says. "They had a shrimp appetizer and then had crispy prawns, sushi rolls, an avocado roll and sashimi including salmon, whitefish, and tuna." 
And while Justin can legally drink in Argentina, most of the group ate their lunch sans any alcohol:
"They drank water except for the guy in his 30's who had a beer," he adds. "They were all very friendly and were very nice people."
The pop star was charged after local authorities held a three-day testimony and hearing from everyone involved.
He will have to pay a fine and will not be arrested. A rep for Bieber did not comment on news of the vandalism charges.
Meanwhile, the singer is expected to perform tonight in Cordoba, Argentina before he heads back to Buenos Aires for two shows this weekend.
—Reporting by Senta Scarborough