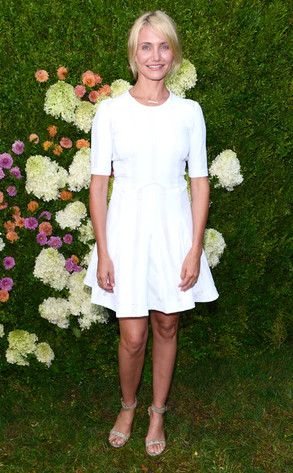 Kevin Mazur/Getty Images for Baby Buggy
Get ready, Twitter. Cameron Diaz has arrived.
The 41-year-old actress joined the social media site, under the handle @CameronDiaz, on Friday, Nov. 8, and then composed her very first tweet.
"I JUST got a super cool new app called Twitter," she wrote. "Twelloooo!!!"
Judging by the use of twelloooo, and her only tweet as of this writing, she is definitely one to watch.
The blond beauty has garnered more than 50,000 followers as of Friday afternoon, and she is following more than 40 people. Some notable celebs she is keeping an eye on in the Twitterverse are Stella McCartney, Jimmy Fallon, Nicole Richie, Gwyneth Paltrow, Drew Barrymore, Jason Segal, Jessica Alba, Mindy Kaling, Seth Myers, Reese Witherspoon, Kate Upton and Kelly Slater.