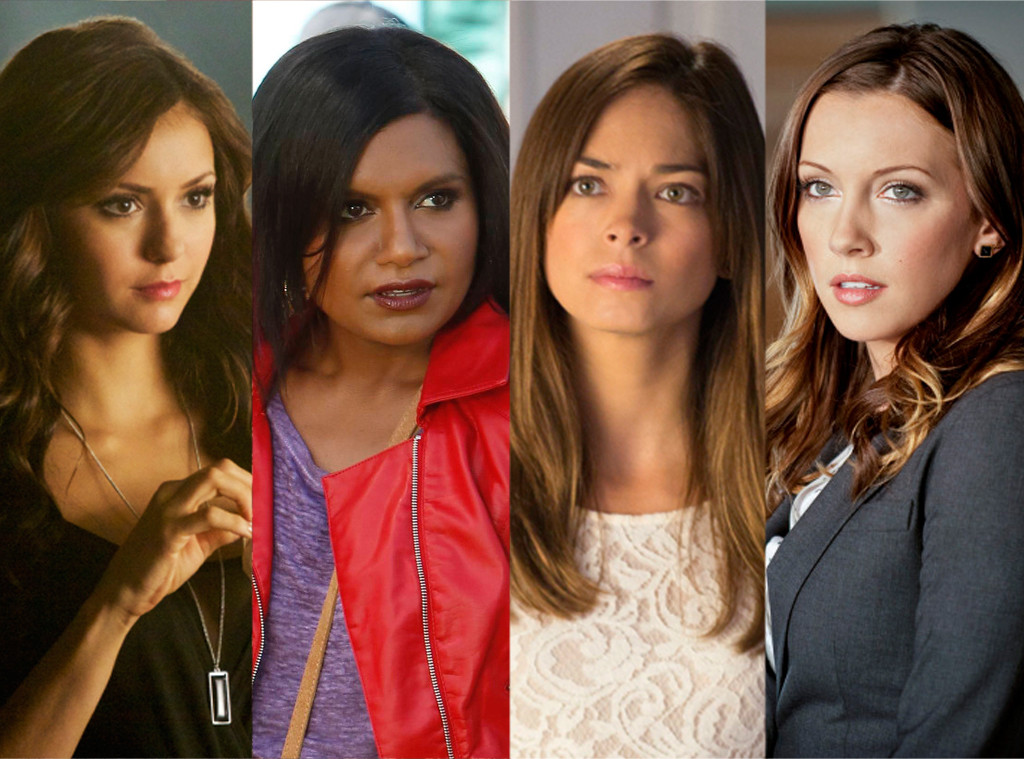 The CW/FOX
Today, it's all about the ladies!
Welcome back spoiler lovers. We're here to kick off your week with exclusive scoop on the fierce and fabulous females of TV. Keep reading for details on Katherine Pierce's quest for love on The Vampire Diaries, the Black Canary's sister setback on Arrow and a hilarious sexting scandal on The Mindy Project.
Plus, could a fan favorite character be returning to Beauty and the Beast? We've got the answer to that question and many more in today's lady-loving edition of Spoiler Chat!
Gabby: So glad Katherine didn't die on TVD! What's next for her?
L-O-V-E. Even if it is kind of one-sided as Katherine's true feelings for one of the Salvatore brothers will be revealed. "Of course, there is that lingering love for one of the brothers that we learn more about as episodes progress," Nina Dobrev teases. "But she does love one of the brothers…and we see that unfold."
Desiree: It was nice to finally learn more about Katrina on Sleepy Hollow! Anything else coming up for her?
Oh yeah, considering tonight's episode and next week's feature major flashbacks. "You're going to learn more about her involvement in the war that's going on right now between good and evil,"  Katia Winter teases. "Episodes seven and eight are going to be quite big." And she reveals, "Who do you think introduced Ichabod to George Washington?" Check back with us a little later for more scoop from Winter, including why Katrina isn't jealous over Abbie and Ichabod's connection...yet!
Meghan: I need Beauty and the Beast spoilers like… now! Can you help a devoted fan out?
While Cat has been dealing with tough family revelations, we can't help but wonder: Could Heather be coming back to New York? "I would love to go back!" Nicole Gale Anderson spills, "That second episode for me when Heather left for Miami was so sad, but they left it open ended. As of now that was the last episode that I had shot for them but I would love to go back." Although she's having a blast on the new ABC Family hit drama Ravenswood, Anderson tells us that the really misses her BATB fans and co-stars. "There's all these jokes on Twitter like, Heather didn't leave for Miami, she left for Ravenswood," she laughed.
Suzie: In desperate need of some Arrow scoop! Please tell me Laurel will be OK!
Sorry, but we were taught never to spread lies as Laurel will still be in a pretty dark place for awhile, and her sister Sara isn't planning on intervening.  "I don't think Sara wants to step in at all, because to her, in her mind, she would only make everything worse," Caity Lotz explains. "She kind of feels like she's almost unworthy of love, so she doesn't think her coming into anyone's life would be any kind of benefit."
Natalie: I think The Crazy Ones is my new favorite comedy! What's coming up for my girl Sarah Michelle Gellar?
Pucker up SMG fans! Our beloved Buffy star is getting frisky in this week's all-new episode of The Crazy Ones. Old men are kind of totally adorable right? Well Sydney can't help but shamelessly flirt with one of America's oldest and most beloved commercial stars. Signs are misread, signals are crossed and before we know it, Chicago's hottest new couple with a 50-year age gap is crowned. Oh and James Wolk is also in the episode being his usual, handsome, perfect self, so yes you definitely tune in.
Roxy: I am in love with Ravenswood! Please give the Ravenswood fans some spoilers on it pretty pretty pretty pretty pretty please!
Well hey there, pretty! Since this is probably the sweetest request we've ever received we're definitely going to give you some Ravenswood goodies. (Psst! We love the show too!) We recently chatted with star, and newly transformed ghost, Nicole Gale Anderson, and she promised us that this week we will finally get some answers surrounding Miranda's mother. "In episode four there's a ghost that makes an appearance and Miranda believes it's her mom," she says. "[Miranda] goes off into a glowing doorway pulling her into the light and after that we don't know what's going to happen." Yikes! Normally we'd tell you to walk towards the light, but we're not ready to say goodbye to our spunky little heroine again.
Pauline: Hawaii Five-O spoilers, if you are so inclined…
For fans of Detective Kelly, aka the oh-so-handsome Daniel Dae Kim, or if you're a fan of heartbreaking storylines, you do not want to miss a moment of episode 13. It involves flashbacks to Kelly's past that will give you some great insight into his character, but it will also probably make you cry. Just preparing you now, folks!
Christine: Gimme that Mindy Project scoop! I know you're just as obsessed as I am.
Um, how dare you? We are way more obsessed with this perfection of a comedy. To prove it, we've already watched this week's episode and once again it's ever more perfect than we could have imagined. So. Many. Danny. Feels. Swoon! To reward you for your excellent taste in TV, take a look at these first look clips below from Tuesday's episode.