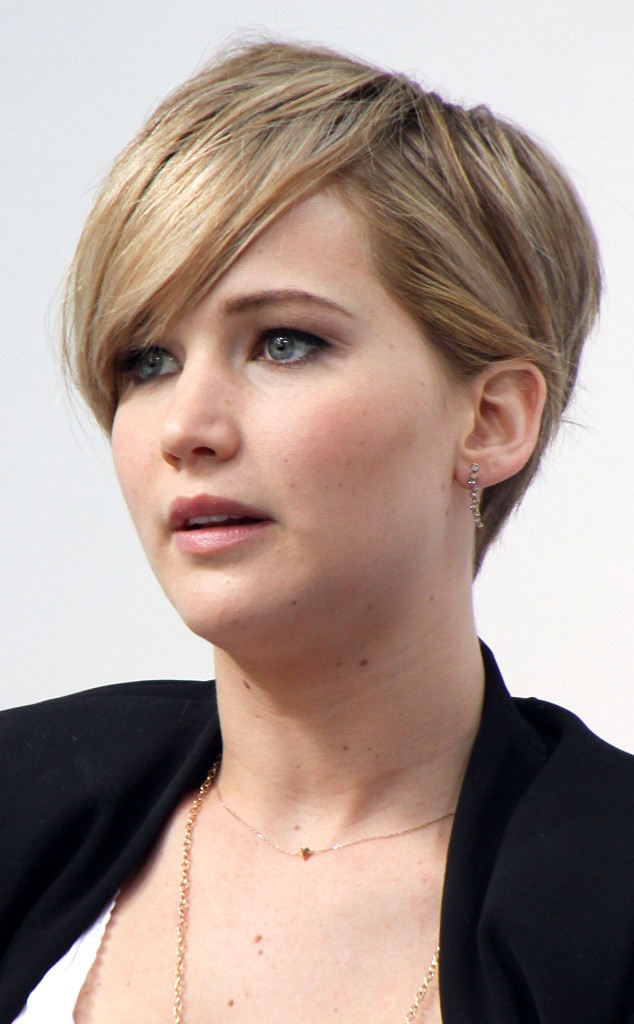 L Prima/FAMEFLYNET PICTURES
No one—not even Jennifer Lawrence—can endlessly dry, dye, highlight, straighten and curl their hair without repercussions.
The inevitable damage resulting from over-processing one's hair is part of why the Hunger Games: Catching Fire star got her hair cut into a short pixie 'do. The other reason? "My hair couldn't get any uglier," she quipped during a Yahoo "Fireside Chat" on Thursday, Nov. 7.
"I don't know, I cut it earlier, and it was just kind of like [shoulder-length] and it grew to that awkward, gross length," said the actress, who wore a chic black and white ensemble paired with a spike lariat necklace by Sydney Evan for the occasion. "I just kept putting it back in a bun, and I said, 'Well I don't want to do this,' so I just cut it off."
In a Google+ hangout, the 23-year-old actress admitted part of the reason she chopped off her locks was because they were "fried from being dyed too much."
She then added jokingly that her drastic 'do was "just to annoy" Catching Fire director Francis Lawrence. But, in case any Mockingjays were concerned, J.Law didn't just up and decide to give District 12's darling an impromptu makeover!
"This isn't how Katniss is going to look in the next movies, don't worry," she said. "I'm wearing a wig."
Effie Trinket will surely be pleased.