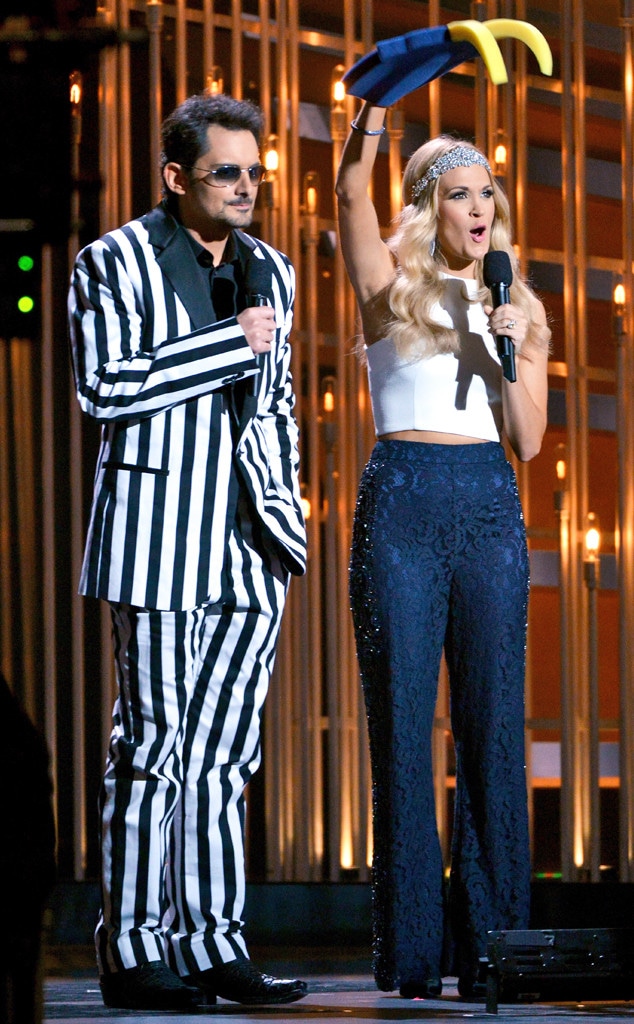 Larry Busacca/WireImage
It was country's biggest night, y'all!
The 47th Annual CMA Awards were broadcasted live tonight in Nashville, and our hosts for the evening Carrie Underwood and Brad Paisley (who else?!) provided a good amount of laughs while also enjoying the entertainment by a number of country crooners and finding out who won what, of course.
Here are some of the show's highlights...
Best Opening: Luke Bryan. That's really all we have to say, but the fact that he's wearing a black sequin shirt needs to be mentioned also.
Get It, Girl: Taylor Swift proved early on that she was turning the CMAs into a dance party.
Best Make Up: Luke Bryan and Zac Brown put their feud to rest and hugged it out! Brown even got a smooch on the cheek from Bryan. Lucky dog!
Bad Taste Alert: As Carrie and Brad continued to pass around certain singers' designated feuding partners, the duo gave Darius Rucker Julianne Hough. Yep.
Nods to T.Swift: Brad acknowledged that the industry has watched Taylor grow up in front of their eyes and thanked her for "never once humping a teddy bear or gyrating with Beetle Juice."
Best Surprise Appearance: It's Duck Dynasty, y'all! Runner up: Sean "Diddy" Combs.
Best Skill: Kacey Musgraves is one helluva whistler. The 25-year-old singer showed off that skill while performing "Follow Your Arrow."
Playing Dress Up: Paisley channeled his own Beetle Juice by strutting the same striped suit as Robin Thicke at the VMAs, while Carrie had a foam finger and wore—wait for it—pants! What?!
Cute Support Moment: Miranda Lambert and Keith Urban performed their duet "We Were Us" for the first time, and her hubby Blake Shelton was singing along in the crowd and gave the pair a standing ovation.
Best Collaboration: Swift performed her hit "Red" alongside Alison Krauss and Vince Gill.
Did That Just Happen?: It looked like  Jason Mraz forgot the words to his duet song with Hunter Hayes in the beginning.
Best Badass: Eric Church debuted his new single "The Outsiders" and it's so full of badassery, we almost couldn't hang.
He's Still Got It: Tim McGraw. Swoon.
Best Facial Expressions: A camera stayed on T.Swift as she watched a video honoring her for the Pinnacle Award, and her reaction to seeing stars like Justin Timberlake, Julia Roberts, Mick Jagger and Ethel Kennedy (to name a few) speak fondly of her was priceless.
Best Powerhouse: Carrie Underwood killed her performance. We're out of breath just from watching her!
Hubby & Wife Win: Miranda Lambert won Best Female Vocalist and her husband Blake Shelton won for Best Male Vocalist. Yay!
Here's the complete winners list for the 2013 CMA Awards:
Entertainer of the Year: George Strait
Male Vocalist of the Year: Blake Shelton
Female Vocalist of the Year: Miranda Lambert
Vocal Group of the Year: Little Big Town
Vocal Duo of the Year: Florida Georgia Line
New Artist Of The Year: Kacey Musgraves
Album of the Year: Blake Shelton, "Based on a True Story"
Single of the Year: Florida Georgia Line, "Cruise"
Song of the Year: "I Drive Your Truck," Jessi Alexander, Connie Harrington, and Jimmy Yeary
Musical Event of the Year: Tim McGraw With Taylor Swift & Keith Urban, "Highway Don't Care"
Music Video of the Year: Tim McGraw, "Highway Don't Care"
Musician of the Year: Mac McAnally
Pinnacle Award: Taylor Swift