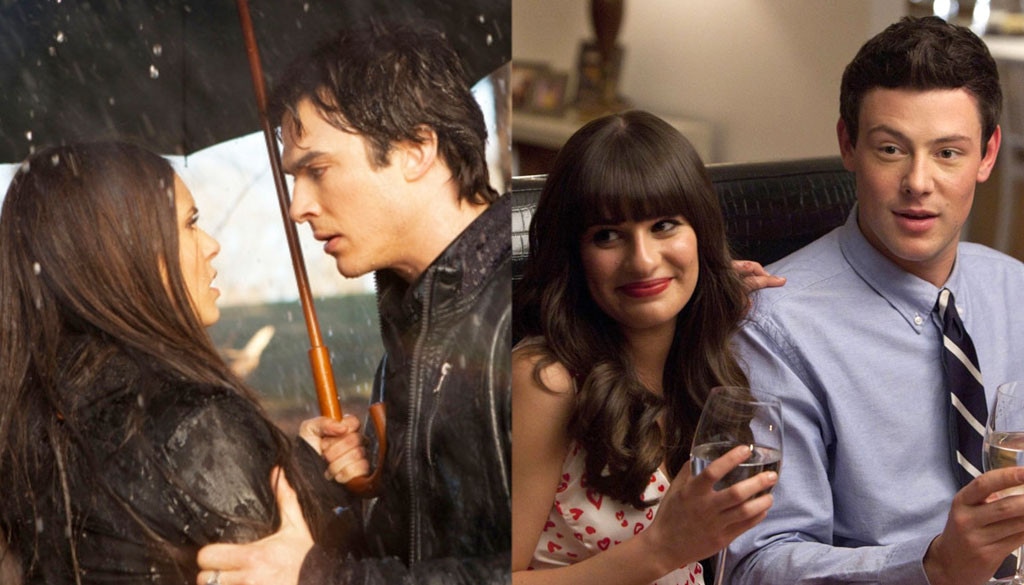 The CW, FOX
We started off with 64 iconic TV couples. Ross and Rachel. Buffy and Angel. Carrie and Big. TV giants.
And it all came down to the two most passionate TV fanbases around right now: Glee and The Vampire Diaries.  Rachel and Finn. And Damon and Elena.
Thousands voted in E! Online's Best TV Couple of All Time Tournament. And now it's time to announce the winner!
In a super close competition (there was just a three percent divide!), The Vampire Diaries' Damon (Ian Somerhalder) and Elena (Nina Dobrev) have officially been crowned the small screen's Best Couple of All Time!
And guess what? We just so happened to be on the CW hit's set in Atlanta today and were able share the amazing news with Ian and Nina, as the show was celebrating its 100th episode.
Suffice to say, they are overwhelmed by the fan love.
"I mean it's crazy!" Nina said of the win. "The Delena fans are so passionate and so enthusiastic and such rabid lovers of Damon and Elena's chemistry and their relationship that obviously we're incredibly flattered and excited about it. It is really awesome!"
Then she added with a laugh, "I'm a little upset about [the win], to be honest with you. Ricky and Lucy were the ultimate couple, so I feel like we stole it from them and they deserve it more. They are much more iconic. I grew up watching I Love Lucy, so I guess I'm a little biased."
"Those are some pretty phenomenal couples to be in any kind of competition with," Ian added. "And to know that whatever Damon and Elena have done that resonates with fans, we're so grateful to have that title!"
Then Ian joked: "You know who's going to win the next best couple ever in television? It's going to be [The Orignals'] Klaus and Elijah. Stefan and Damon are old news. They only do it once a year now, like an old married couple." Ha! Do you think they're sleeping in separate beds like Ricky and Lucy?
Executive producer Julie Plec is also understandably thrilled, telling us she is "happily surprised" because, "That was some brutal competition!"
As for what lies ahead for Damon and Elena this season, Julie teases: "A wicked combination of blissful happiness and terrible romantic hurdles." Gulp!
"Damon does take a daker turn," Ian explains. "Relationships are hard in real life, and they're exceptionally hard in Mystic Falls because when you have happiness in Mystic Falls, you have no drama. And if you have no drama, you have no TV show."
"Damon and Elena, it's a tough thing for both of them," he adds. "And it's the age-old scenario: girl goes away to college, boy is at home, you're in different places and different spaces. And let's just get one thing out in the open. He is 177 and she's 18. We're talking about some serious cradle-robbage. While she's a phenomenal young woman, ultimately it's difficult to maintain this relationship."
Nina teases this about what's ahead for Damon and Elena: "It's the elephant in the room when you're in a relationship and there's an ex-boyfriend around," she tells us."The significant other is always like, 'Hm...I wonder.' There's always that insecurity and they might say that it's OK, but it's in the back of their mind. It's the same kind of thing for Elena and Damon. He's pretending to be OK with it, but he can't unthink and unknow what he heard and what he knows now. It always be at the back of the mind so it will always cause a little bit of tension in that relationship moving forward."
As for whether Aaron (Shaun Sipos) might develop a romantic connection with Elena in the future, Nina says: "We'll see where it unfolds in the future, but they definitely do a have a similar past and a lot they can relate to. The two of them have lost a lot and continue to lose a lot and I think they bond over that."
Fun fact to make you go hmmm....We had a heck of a time getting Nina on set today because she is having an incredibly intense shooting day (we have seen with our own eyes), and our press cameras were not allowed to catch even a glimpse of her because it would be a major spoiler.
You just wait, fans. 'Cause this season just continues to be bat-poop crazy in the best way possible!
Congrats to Delena fans! Your passion is astounding and we commend you.
And for any truly traumatized Stefan and Elena fans (sorry!) a small concession prize in this quote from Julie Plec:  "My cups overflow with Stelena love and alway will." At least that's something?
Tune in to The Vampire Diaries tonight on the CW to see what TV's Best Couple of All Time is all about!